Schreiber alum produces How I Met Your Mother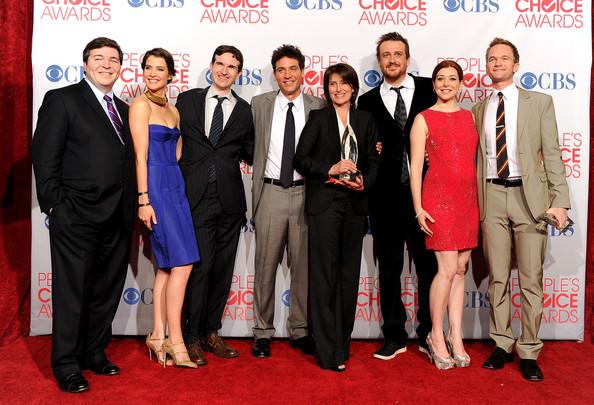 Craig Thomas, Class of 1993, is living proof that a Schreiber diploma can help you develop your potential. Thomas, along with his writing partner, Carter Bays, are the masterminds behind the popular CBS television show How I Met Your Mother. Born in Flushing, Queens, Thomas relocated to Port Washington as a baby and completed all of his schooling through the Port Washington School District.
A typical "Port Washingtonian," he attended Salem Elementary School until the 4th grade, Weber Middle School and ultimately Schreiber High School.
By high school, Thomas knew he wanted to be a writer and enjoyed his English classes at Schreiber the most. However, what would ultimately help him the most in his pursuit towards his stellar writing career on How I Met Your Mother was his love of music. Thomas enjoyed classes in the music department, where he played the trumpet and drums, and even remembers playing in Battle of the Bands during his senior year.
"My band placed a thoroughly unimpressive 3rd place out of five bands, the very definition of average, but it was really fun," said Thomas.
After graduating Schreiber, Thomas attended Wesleyan University in Connecticut, where he met his future collaborator Carter Bays, the co-creator of How I Met Your Mother. There, he had better luck with bands.
"We played in a nine-man rhythm and blues-soul band, complete with a four piece horn section—we were pretty good! As a result of that, we started writing music and comedy together and have been doing so ever since then," said Thomas.
After graduating from Wesleyan, Thomas and Bays wrote for The Late Show with David Letterman, and then moved to Los Angeles to work on a short-lived sitcom called Oliver Beene. Even though the sitcom didn't survive, their work impressed 20th Century Fox Television enough to offer them a development deal to create a new show for the network. And the illustrious How I Met Your Mother was born.
Although the show is wildly popular today, and has won a total of five Emmy-Awards and a host of People's Choice Awards, Thomas and Bays were amazed when CBS agreed to the show initially, which aired on September 19th, 2005.
"CBS bought the show and shockingly 'greenlit' shooting the pilot, meaning that they agreed to finance and air our first ten episodes, out of probably 30 to 40 that they bought, to be shot. We were thrilled and surprised because out of the 10 or so they made, they only put two or three on TV. A lot of luck, really," said Thomas.
For those of you that aren't familiar with the cultural phenomenon, How I Met Your Mother is set in Manhattan, and narrated by character Ted Mosby (Josh Radnor) from the year 2030. Each show begins with a snippet of Ted explaining to his children the story of how he met their mother and everything along the way, mainly his quest for love and adventures with close friends Marshall Eriksen (Jason Segel), Robin Scherbatsky (Cobie Smulders), Lily Aldrin (Alyson Hannigan) and Barney Stinson (Neil Patrick Harris). The characters, according to Thomas, are loosely based on himself and Bays.
"How I Met Your Mother is, at its essence, Carter and I writing about ourselves and our friends, and all of our memories of our time living in New York City in our twenties. The character of Ted is loosely based on Carter, who was single at the time, while the characters of Marshall and Lily were loosely based on my wife and I who had been together since freshman year of college," said Thomas.
This is consistent with his belief that the show's success comes from its ability to speak to the audience and be relatable.
"I will point out that these are highly fictionalized versions of ourselves and our friends, but ultimately we try to make sure that every episode we write comes from a real place/experience or emotion," said Thomas. "Really, the show just came from us writing our take on life in our late twenties into our early thirties. The old saying goes, 'Write what you know,' and even though it's a bit of a cliché, it's really true!"