"Away From the World" proves the Dave Matthews Band's longevity and success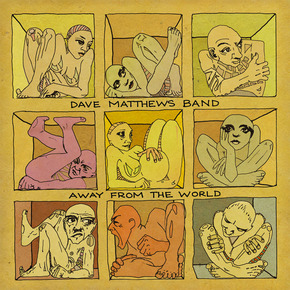 Aaron Schuckman, Business Manager
October 5, 2012
Three years after their last album release, the Dave Matthews Band has released their ninth studio album, Away From the World.   Now at the top of the charts, the 11-song rock funk mix proves that the band has not yet run out of steam.
The albums are the collaborations of guitarist and vocalist Dave Matthews, drummer Carter Beauford, violinist Boyd Tinsley, bassist Stefan Lessard, saxophonist Jeff Coffin, trumpeter Rashawn Ross and electric guitarist Tim Reynolds.
Music producer Steve Lillywhite returned to the scene to make Away From The World more like a classic Dave Matthews album and less like newer outings such as Big Whiskey and the GrooGrux King.
New saxophone player Jeff Coffin has had enough experience to fill the void left by the death of the band's original saxophonist, LeRoi Moore, in 2009.
In both structured passages and improvisation he proves that he is as talented and in line with the rest of the band members as his predecessor was.
The dynamic hit single, "Mercy," was first played in April on Late Night with Jimmy Fallon. Top-notch songwriting and a soft sound kept the band's dedicated fanbase eager to hear more tracks.
They trickled in, one at time, during the band's 2012 summer tour. The band played "Mercy," no doubt the most important song on the album, 35 times during the tour.
Other quality tracks like "Gaucho," "Sweet," "Belly Belly Nice," "The Riff", and "If Only" soon became normal songs added to the Dave Matthews Band's long set lists.
Finally, when the album was officially released in September, fans were able to hear the studio recordings of the songs from the summer plus new tracks.
The opening song, "Broken Things", is a love song that is rough around the edges, and should appeal to listeners for its raw feel.
The album continues to go strong on rock roots themes on "Drunken Soldier," the closing track. It is a ten minute jamming rock song with all instruments working together. It shows off not only each member's musical ability, but the band's ability to perform exceptionally as a group.
The band hasn't released any future tour dates, but like the summer tour, future live events will sell out quickly.  Away from the World should excite fans of the Dave Matthews Band, and leave them eager for more.