Mini lines for the iPad Mini, which falls short of expectations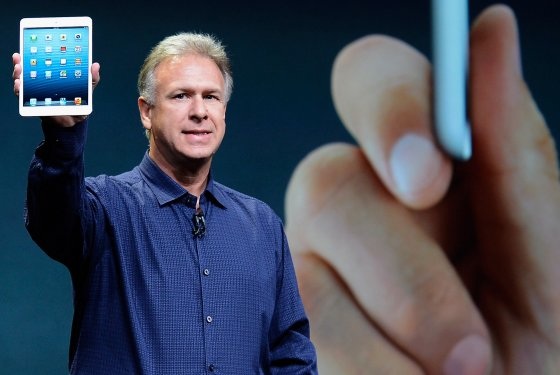 The release of a new Apple product typically draws scores of dedicated fans, who camp out in front of stores for hours.  Hardly anyone was freezing on line outside of the Apple Store prior to the release of the new iPad Mini, which has generated deservedly little hype.
The primary differences between the iPad and the iPad Mini are superficial ones.  An obvious difference that distinguishes the Mini is its smaller screen, which measures 7.9 inches compared to the regular iPad's 9.7-inch display.  However, the iPad Mini's 1024 x 768 screen is not a retina display likes the iPad's, and customers who are accustomed to the retina display's exceptionally high pixel density will be disappointed.  Further, the iPad Mini contains the iPad 2's old processor, the dual-core A5 chip, which is considerably slower than the new triple-core A6X chip in the larger 4th generation iPad.
The iPad Mini features an aluminum back and diamond-cut aluminum sides, similar to that of the iPhone 5.  This new product is charged by the Lightning Connector, which will make current iPad holders grumble.  Old Apple dock connectors are now obsolete and the new adapter costs an astounding $30.
For those who use their mobile devices as cameras, the iPad Mini has a 5 megapixel back camera with 1080p video recording and a 1.2 megapixel front-facing camera with 720p video recording.
The iPad Mini Wi-Fi-only models start at $329 with 16GB storage.  Other tablets offering similar performance with high resolutions, such as the Kindle Fire HD, are available for $199.  With prices like those, it is pretty hard to consider buying the iPad Mini when other companies are offering more features for less money.
"Although it is cheaper and more convenient to carry than the regular iPad, the iPad Mini just is not worth it because the price is still expensive for what you actually get," said senior Debbie Oyarzun.
If you are in need of a smaller tablet, look for more reasonably priced Android alternatives.  Unless you are trying to complete your collection of Apple products, adding the iPad Mini to your assortment of electronics is not worth the price.