The This Is Us mid-season premiere speaks to all of us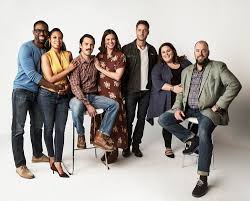 Have you ever watched a show that was so relatable that you couldn't stop watching?  For many television watchers, This Is Us on NBC is exactly that show.  This Is Us originally premiered in 2016 on NBC.  The show follows the lives of triplets Kate, Kevin, and Randall as they tackle adulthood.  The series takes place in two different times, as it follows the siblings both in the present and in the past, where the triplets parents, Jack and Rebecca, play a big role.  In the first episode of the series it is revealed that there were complications with Rebecca's pregnancy, and one of the triplets was stillborn.  Having expected to take home three babies, Jack and Rebecca adopted Randall, a child that was born on the same day and abandoned at a fire station.  Because of the show's intriguing plot it is wildly popular among not only adults but also teenagers. 
"I love the family dynamic of the show.  Each episode is very emotional and heartfelt, which makes it a great show," said senior Davida Harris.
The mid-season premiere, which aired on Jan. 9, has already gotten great reviews from fans. Fans were eager to figure out what happens next after the previous episode's cliffhanger ending.  The episode started off with the family gathering at Kevin's rehab center planning to discuss the reasons for his addiction.  Throughout the episode both unlikely connections between characters were made and old bonds were rekindled: a newfound friendship arose from a heartfelt conversation between Toby, Kevin's brother-in-law, and Beth, Kevin's sister-in-law, and Rebecca, Randall, and Kate discussed resolving their problems with Kevin.  As in every episode, the past storyline connected with the present, making the themes in the episode even more prominent.  In this particular episode, the message that the show was trying to get across was that in families or large groups of people, everyone has different perspectives on the same events.
"I love how each episode shows the past and the present.  It adds a lot to the show, and makes me feel even more for the characters," said senior Saige Gitlin.
Don't miss the next episode of This Is Us on NBC this Tuesday at 9 pm.