Keeping up with the fashion of the British royals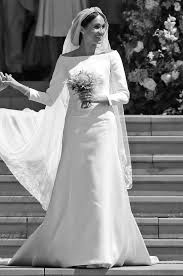 On May 19, as tens of millions of Americans watched Meghan Markle strut down the aisle of St. George's Chapel in Windsor and married her Prince Charming, Harry, much of the public's focus was on the wedding guests' elegant and chic fashion was the center of everyone's attention.
For any wedding, everyone wants to know about what the bride will be wearing, but the awe around this wedding, as one would expect, was even greater. For the weeks leading up the wedding, chatter about the royal wardrobe consumed American media.
Since so many people were tuned into the event, the newly crowned Duke and Duchess had to dress to impress. 
  When she stepped out of a Rolls Royce at St. George's south entrance, which was a stunning entrance, the public got a full view at Markle's Givenchy highly anticipated dress. The dress was designed by the esteemed Clare Waight Keller.  
The dress itself was a simple elegant three-quarter sleeved, off-the-shoulder white dress. The impressive 16.5 foot veil was just as impressive. It received special attention, and was embroidered with every flower of the commonwealth, secured with Queen Mary's Diamond Bandeau tiara.
"I was watching the wedding live and I fell in love with Meghan's dress as soon as I saw it," said junior Molly Schiff. 
Both the Best Man, the Duke of Cambridge, and the Groom, Prince Harry, wore the single breasted black frock coat uniforms. This is the men's coat of the Blues and Royals, and it buttons up the front and the skirt ends just above the knee.  
As for all the prestigious guests, though they could not match the elegant dress of Markle, their outfits were still extremely impressive. Women wore eclectic hats called fascinators. 
No two hats are alike as all range is size, complexity, color, and more. Some featured large feathers, while others featured pieces similar to modern art, but all looked stunning. 
"I watched the wedding just to see the various styles of hats. I especially loved to see the hats of the immediate family members," said junior Maya Konoff. 
May 19 was a day Markle and Prince Harry will not soon forget, and neither will the millions of fans that watched.