Women's empowerment club kicks off decades day
One of Schreiber's newest clubs hosts its first event in the lobby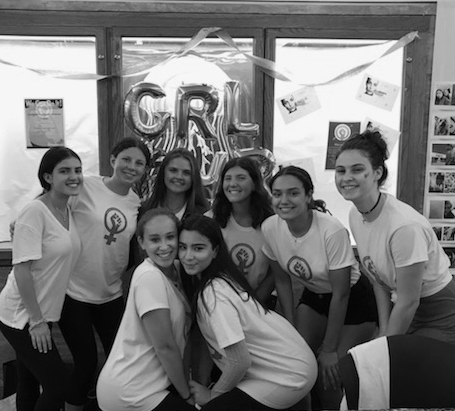 Ava Sann, Contributing Writer
June 6, 2018
On Friday, June 1st, Women's Empowerment Club held its kickoff event: a Decade Day to commemorate all of the wonderful women throughout history and their achievements relating to equality. The new club has created a new, hip, and cultured environment for students to discuss feminism and equality. 
To celebrate the exciting Decade Day, club members and volunteers alike set up five tables in the lobby during 4.1 and 4.2, each table being dedicated to a particular decade. The 1920s, 1960s, and 1990's were some periods represented at the event.
"The purpose of our event is to educate people about feminism, as well as the struggles that women have faced throughout the years, but we also want to show how much progress we've made," said junior Pamela Stern.  "We're trying to establish ourselves and promote the club to new members." 
Each decade's designated table possessed a variety of games and music related to its deemed era.  The club members also gave away exciting prizes to those who participated.  
"My booth is all about the 1920's, so we revolved our theme around women's suffrage, since women received the right to vote during the period. We had a bunch of polls set up on the table to stimulate a booth, so people could see how important equality is in a relatable way," said junior Riley Kerin.  
The club was able to transform the Schreiber lobby into a display of women's greatest achievements throughout history in the hopes of inspiring students, while showing them their true potential and the difference that they can make in the world. Many of the great strides women made in both the social and political spheres between the years of the 1920's and 1990's were showcased in this one room.  This provided what many students believed was a clarifying and encouraging outlook to the students of Schreiber.
"I'm in charge of the '90s booth with Annie Bandler.  There's a wall where you can write your name, along with what you won't do for oppressors, like smiling, acting nice, all in the style of Riot Grrrl posters, which was a huge feminist subculture in the '90s," said junior Julia Bischoff.  
The decorated tables in the lobby stretched, in a few mere feet, from the twenties, when the topical issue was suffrage, all the way to the nineties, which was when women learned that they were finally entitled to have an identity all their own. This not only helped draw attention to the cultural progress women made throughout American history, but also highlighted the potential that females of all ages have on impacting our society. 
"This club is exactly what Schreiber needs. Everyone should understand that the true meaning of feminism is simply wanting equality for everyone. I feel that this club is going to do amazing things for both the men and women at our school," said junior Chloe Smith.  
The day of the event, an array of tables were dispersed in the lobby. 
"At our table, we've made pamphlets to show how feminism developed in the 1990s," said junior Julia Ciorciari.  "We also have pieces of paper that say 'I won't blank for you.' Some that students have created so far are, 'I won't change myself for you,' 'I won't lie for you,' and 'I won't dress up for you,' to show that women have their own identities."
Tables like Ciorciari's also included other thought-provoking experiences to the students who visited them.
"We also have questions that people can answer to learn a little bit more about women of the decade. An example of a question we've asked is, 'how many female power rangers are there, and what are their colors?' And people have the chance to guess, and if they get it right – the answer is pink and yellow – then they get to pick a piece of candy as a prize to put a fun spin on it," said Ciorciari.
Many students greatly appreciated the hard-work of the Women's Empowerment club members.
"I went to the '90s table and tried out some trivia. The people who were at the booth were super sweet and you can really see how much they care about what they're doing and the points that they're making about empowering Schreiber students," said sophomore Tobey Tick.  
From Coco Chanel and Elizabeth Cady Stanton, all the way to Riot Grrrls and Reggie Rocket, the Women's Empowerment Club is giving Schreiber the opportunity to gain education about female success, rather than simply their hardships and limitations, therefore spreading ambition and positive energy throughout the community.