Tom Suozzi Announces Run for Governor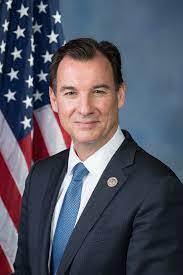 Congressman Tom Suozzi recently announced his candidacy in the 2022 New York gubernatorial election.  He must beat incumbent Governor Kathy Hochul and former New York City Mayor Bill de Blasio.
Suozzi announced his campaign on Nov. 29, and his plan is to appeal to moderate Democrats and Republicans.  By advocating for lower taxes, gun regulation, and other policies, he has gathered support from both parties.  
"I don't believe it's about going to the far left or to the far right," said Congressman Tom Suozzi in an interview with the New York Times. 
Suozzi has consistently said that he believes the extremists on both sides have been tearing New York, and the nation, apart.  He wants to be seen as a moderate who can bridge the two parties.  Suozzi also has the support of some major Democratic politicians, such as New York City Mayor-elect Eric Adams, who offered him the position of Deputy Mayor of New York City.
"I do not think the left will be that welcoming if [Suozzi] comes in defying a lot of leftist ideologies," said freshman Spencer Cohen.  
In contrast to his moderate ideas, Suozzi will run against heavily-favored Governor Hochul.  The two progressive Democrats have strong connections to politicians and voters in New York City, one of the largest voting blocks.  Both already have lots of financial backing; Governor Hochul has $25 million, while Congressman Suozzi only has $3 million.   
"A moderate Democrat like Suozzi can win because conservatives will be more comfortable voting for Suozzi than Hochul," said junior Ryan Gawley.
Governor Hochul's policies mirror former Governor Cuomo's ideas, such as raising minimum wage, promoting paid family leave, and decriminalizingmarijuana.   Though Congressman Suozzi is a member of the same political party, their policies are very different; however, Suozzi still does hold some progressive ideas.
"Any restoration of theSALT deduction will be paid for by the wealthiest Americans and they will derive only a portion of the benefits," said Suozzi in a Washington Post article.  
In layman's terms, this quote means Suozzi has some policies that are similar to the more left-wing ideas.  
Congressman Suozzi cannot run for both congressional and gubernatorial elections at the same time.  Therefore, since he has chosen the gubernatorial race over Congress, Suozzi's seat in the 3rd District of New York will be a battleground, and both Democrats and Republicans will fight relentlessly for it.  Seventeen other Democrats in the House of Representatives have announced they will not run for reelection, while only eleven Republicans have done the same.  There is currently major concern over whether the House of Representatives will flip Republican.  
"The path back to a majority for Democrats if they lose in 2022 has to run through states like Texas, and they're just taking that off the table," said redistricting expert Michael Li in a New York Times article. 
Li is referring to how the House of Representative might flip not only because of the amount of Democrats retiring, but because of a policy called redistricting.  Redistricting could give Republicans more seats in the 2022 election.  These factors combined could cause serious damage to the Democrats in the House of Representatives.  With the Republican wins in the 2021 Nassau County elections, Democrats have an uphill battle to gain the congressional seat.
"A Republican would most likely win, because Nassau believes in low taxes, decent education, law and order, and the ability to try new policies and be individualistic," said senior Ian Levine.   
Only two candidates have announced running for Nassau County congressional spot: Melanie D'Arrigo and Navjot Kaur, both Democrats with no prior political careers.  However, the 2022 congressional election is still far away, so many would-be candidates are likely yet to file proper paperwork to run for the seat. 
Congressman Suozzi may not be popular enough to win the governorship.  Both the gubernatorial race and next year's Nassau County elections are still a ways away, but the political climates of New York and Nassau County are evolving, so there is no sure way to tell who will win the elections.