Mothers day musical mashup at Madison Square Garden has fans jamming for joy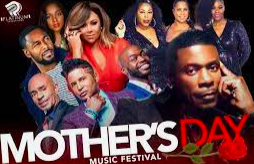 Well, it looks like spring has finally arrived in New York which means folks are flocking to Madison Square Garden's Hula Theater to attend the annual "Good Music Mother´s day festival".  Since the tradition was born in 2016, Madison Square Garden has become a temporary hub for Soul, Rap,Hip-hop and R&B lovers.  The festival provides an outlet for black artists to get the spotlight they deserve while paying homage to the popular musical genres that they have greatly inspired and influenced. The festival also reminds the audience to appreciate/explore all the various cultures that exist within New York City, bringing people of all different musical tastes together to celebrate love, life, and those you cherish most.
Running from Saturday May 7th through Sunday May 8th, fans can expect to see some of the biggest stars and Grammy Nominees from these genres, including  JA Rule (  ¨Between you and Me ft.Christina Milian , Ain't it funny ft.Jennifer Lopez¨ ), FAT JOE (Make it rain,So excited¨), Ashanti (Foolish,Happy),  REMY MA( Wake me up ft.Lil Kim)and LIL MO(¨Can´t let you go, Superwoman pt ii) performing on stage during the festival. Featured songs include All the way up by Remy Ma, Lean back by Fat Joe, and so much more. 
During the show there will be a unique combination of solo performances and collaborations so be sure to sing along!  The great thing about having this diverse blend of  different songs from the various performers is that makes for an interesting mix of rhythms and beats allowing viewers to get a little taste of each genre.  For older fans who miss the nostalgic hip-hop era of the 90s and 2000s, this concert is the perfect gift for them.  However, just because it is mainly marketed as classic Hip-Hop and rap music doesn't mean younger fans can't enjoy it too. 
"I would be hyped, I would chill with the boys¨ said sophomore CC.
For those looking for a fun, intense night in the city, this vibrant festival is definitely the perfect way to relax, dance, and celebrate the night away. If you thought this concert couldn't get any more epic, wait till you hear that some of the most well known artists in Hip-Hop, Rap, and Soul are allowed to play at this exclusive concert.  For instance, in previous years, famous  artists such as Boys ll Men, H.E.R, and Monica Avant were invited to perform at Madison Square Garden giving audience members the experience they had been waiting for years. However, this doesn't mean non-R&B and soul fans can't enjoy this concert too.  In fact, everyone regardless of musical interest is invited to celebrate here. 
"I think it's great that even if people don't like that type of music they can still enjoy the concert,"  said Senior Lauren Chan. 
Mothers Day just got crazier with this awesome "Good Music Mother´s Day festival" at Madison Square Garden.  This experience is perfect for anyone looking for a different, exciting way to celebrate their loved ones this Mother's day. Tickets for one visitor range from $70.50- $119.50,  but prices may vary slightly based on party size so go to the official website for more details.  Book your seats fast though because this concert sells out quickly.