Twinkle twinkle, little fashionista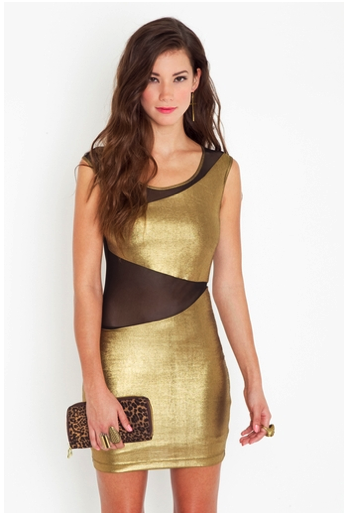 From rhinestones and glitter to sequins and studs, metallics are popping up everywhere this spring. Making a big statement is what this season is all about, and joining in on the metallic trend will definitely help you stand out. Clothing, shoes, and accessories can all be found in sparkling iterations, so it won't be hard for you to play your part.
Metallics are often found in any day-to-day outfit, in the buckle to a belt or the laces on a pair of shoes. This season, however, they are becoming much more than a simple accessory. Sparkles of silver and gold are becoming the focal point of an outfit, creating a shimmering look from head to toe. Denim, dresses, and blouses are among the most popular items being produced in metallics, which can make any casual outfit look sophisticated.
In order to participate in the metallic trend, you have to be brave enough to stand out in the crowd. Be careful though, because you don't want to create a shine that is too strong to handle.
"Metallics are definitely a trend I am loving for this season. They change the feel to any outfit and create a sparkle that will be perfect for a day or nighttime look," said sophomore Rachel Johnson.
Beginning with metallic accessories will help you ease in to this glittering trend. Add a stack of silver bracelets or a gold chain necklace to an outfit, and you will already be on your way.
Wearing metallic shoes are also a great way to add metallics into your wardrobe. They are flashy yet subtle, and will definitely boost the shine of a look. Try adding shimmery ballet flats to a summer dress or skirt. It will not only create a simple hint of sparkle, but it will allow you to take a daytime look and wear it into the night.
If metallics catch your eye from the start, don't be shy to jump right in. Take a pair of metallic shorts and combine them with a neutral colored top. Add metallic accessories as well to contrast the shorts and create a more sparkling look.
The metallic approach to a night out will be a little different than a metallic look for school. If you are going to a special event, put on a gold-sequined dress. Pair it with gold heels and a metallic bag. Though it may sound like there is too much shine here, if you play it right, you can combine as many metallics as you like.
Searching for metallics this season will be an easy task for interested buyers, as they can be found in stores ranging from Forever 21 and H&M, to Free People and Urban Outfitters. Department stores will also be taking part in the metallic trend, advertising racks and racks of clothing and accessories.