Athlete of the Month: Ashley Pollack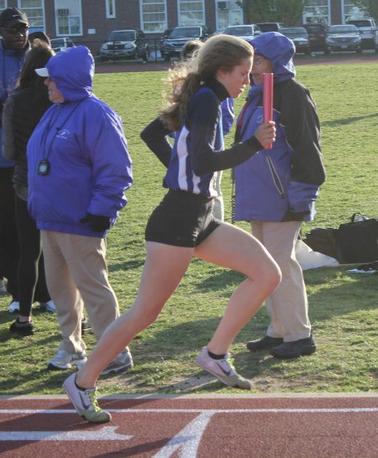 Many people find what they like to do by going out and trying new things. If people didn't attempt new challenges then they would never know what they are good at and what they are bad at.
Junior Ashley Pollack challenged herself in seventh grade and has never looked back.
"If I didn't try to run on track in seventh grade and if Coach MacDonald didn't convince me to do cross country, I probably would have been playing soccer right now," said Pollack.
Pollack is now co-captain of spring track, winter track, and cross country and is one of the premier long distance runners for Port Washington, running the 400, 800 and 4 x 800 relays. She has been awarded MVP of the team and has gone to counties since she was a freshman. Pollack has also made state qualifiers in both spring and winter track the last two years.
She attributes her talents to Meghan Byrnes, class of 2010, who was a similar runner to Pollack and is now running for Johns Hopkins University.
"I'm not sure what is was about her, but I still make references to her during practice because she was a big part of how I learned to be a competitive and successful athlete," said Pollack.
Pollack leads the girls team in the 400m with a time of 62.3 seconds, ranks second in 800m with a 2:24 and her 4 x 800 relay team consisting of her, freshmen Laura Russo, and sophomores Dian Lin and Joelle Feinberg broke the school record during winter track with a 9:48. But she isn't the only one doing well this season.
"The team is doing great this season. We get better and better every year. We placed third in divisions this year, and the last week in May we have our state qualifiers and a lot of girls have a really good chance of making it to states," said Pollack.
Pollack runs year-round in cross country and winter and spring track.
"Cross country starts about two weeks before school and a lot of girls, including myself, attend foundations running camp over the summer for a week and during the year there is only about a week or two that I am not running when we are in between track and cross country," said Pollack.
Ashley is motivated to continue running next season, and in college.
"I hope to continue to improve my skills and potentially run in college," said Pollack. Pollack feels that the most important part of running is the team and their relationship.
"My favorite part about running is being with the rest of the girls. Winning a race is great, but you spend so much time with the team that you know everyone so well and care about them all," said Pollack.