Athlete of the Month: Jon Weber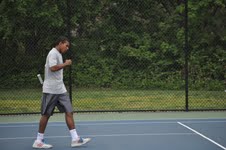 "Outstanding sportsman. Super hardworking. Team leader, on and off the court. Enthusiastic, self-aware, and humble," said tennis coach Mr. Peter Travis.
Praise such as this flows from the mouths of those who speak of senior Jon Weber's athletic ability. The two-year varsity tennis player went to the county tournament at the end of this season, with senior doubles player Krishin Shivdasani. Although the duo subsequently lost to the pair that brought home All-State honors, they both still dominated during the season.
Weber played second doubles with junior Drew Feldman, and during the season they had a personal match record of 11-2. They beat the top teams in the top conference of the league, and helped lead the team to a 7-5 finish.
"Being with him on the court is an experience—it is exciting and he really knows how to have fun out there. Throughout the whole season he motivated the entire team and helped me become a better player," said Feldman. "I learned how to stay mentally controlled on the court, as well as to develop my doubles game. It was great being able to play with him every day."
At the end of this season, Weber will be awarded with the team's award for the most improved player.
"His first year on the team, Jon's play was shaky at best in the fourth doubles slot. He was a strong, but inconsistent player. This season, he has emerged as a force to be reckoned with, through his smashes at the net and enormous strides in his mental game," said Coach Travis.
Weber's love for the sport is part of what helped him this season. He made great improvements in his net game, his consistency, and his mental game, making him a respected player among his team and others in the conference.
"I just loved the sport as a kid. It was a game that mixed intelligence with athleticism. I love doubles especially because the communication aspect makes it a lot more fun, as well as crushing an overhead over the net," said Weber. "Gael Monflis was a big influence. He is my favorite player, and wanting to play more like him helped push me to become better. In addition, it was truly an honor winning the Most Improved Award, as all of my hard work is being recognized for paying off."
Next year, Weber will attend the University of Delaware, where he will try out for the Division 1AA tennis team as a walk-on, hoping to continue playing at a high level.