Spektor sees great Success from the Cheap Seats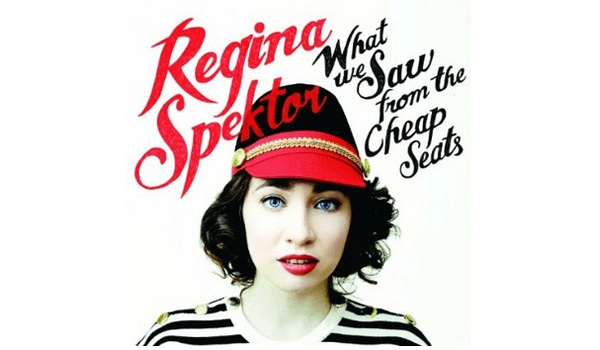 Regina Spektor, the classically trained pianist turned indie rock artist, just released her sixth studio album, What We Saw From the Cheap Seats. Mike Elizondo, who is famous for his work on successful albums by artists such as Eminem and Dr. Dre, produced the album, which stands out despite not breaking too much new ground.
The exact tone of Spektor's new tracks is hard to pin down, but the structure of each song on the album is relatively basic. The piano lays down a strong progression of chords while the strength of her voice fluctuates. In order to distract from the repetitive build of the songs, several feature musical gimmicks, such as electronic beats. These tricks are refreshing, and prevent listeners from experiencing boredom should they attempt to listen to the entire album in one sitting.
The key selling point of What We Saw From the Cheap Seats is Regina Spektor's understated, powerful voice. She communicates the power and emotion of the lyrics with a unique display of vocal strength. Unlike her fellow female singers (for example Joanna Newsom), she delivers lovesick lyrics with a particular harshness as she grows louder and more intense. Listeners are kept on their toes as Spektor backs off strategically, allowing the emotional charge of her songs to build up. When the listener arrives at the climax, Regina Spektor commands full involvement without belting or shouting. What We Saw From the Cheap Seats demonstrates Regina Spektor's mastery of the art of vocal performance. She may not be more adventurous than she was in her 2002 album, Songs, but there is a notable increase in musical talent over the course of her career.
Spektor's fantastic voice makes the lyrics easy to follow, which is where the album loses points. The lyrics, while different from most female-perspective anti-love ballads, are not nearly as impacting or impressive as the voice that accompanies them. Spektor is grasping at poetic straws, and her attempts to be meaningful and metaphorical end up floundering. The less-than-well-thought-out word choice in some tracks, especially the more popular single "All The Rowboats," border at gibberish. It is when she sticks to simpler word choice and lets the music do the work that she is most successful. The first track on the album, "Small Town Moon," is a brilliant start to a great album mostly because it does not try to break any lyrical boundaries. As a matter of fact, the songs on this album break very few musical boundaries.
Regina Spektor proves that independent musicians can make art without being ridiculous and unconventional for the sake of it. The indie edge and creative effort is still present without too much experimentation. This album is a good stepping stone for musically interested individuals to begin their journey into the world of independent rock.
Regina Spektor is one of this generation's premiere independent musical artists. Her new album reflects her consistency as a performer and a musician. What We Saw from the Cheap Seats is recommendable for all listeners, regardless of experience level.