Athlete of the Month: Evan Kerr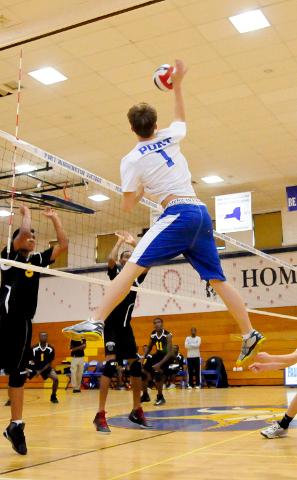 Senior Evan Kerr grew his volleyball roots at a young age. Growing up watching people play intense games on the beach, he can now not only play against them, but beat them.
His sophomore year, Kerr received the junior varsity Coach's Award, and, last season, he was recognized as a scholar athlete. Kerr has been a part of the varsity volleyball team for the past two seasons, making it to the conference semifinals in both.
"Now that the season is over and I have the distinct honor of looking back on it, I can say that after having nine seniors leave, we exceeded our own expectations," said Kerr. "And now, with four more graduating, the players next season stand poised and ready with a lot of untapped younger talent. Even looking down to the JV team, I can promise that Schreiber volleyball isn't going anywhere in the near future."
As far as role models go, Kerr's are not far removed from the Schreiber court. Paul Kagan and Daniel Minnicucci, '12, created a blueprint for the player he has been and wants to continue to be. From Minnicucci, Kerr learned how to do everything and enjoy it, even if the outcome was not positive. Kagan played the same position as Kerr last year, in a similar fashion. Both are "defensive middles," middle players who are better at blocking than hitting.
"When Evan leaps for a spike, I don't just see him reaching for the ball, but striving for the goal of perfection — to be a better person, and a better player. I am honored to call him my teammate and I know he will go beautiful places in life," said senior Mike Berry.
Aside from participating on the school team, Kerr has also participated on club teams, such as the Long Island Volleyball Club 18-year-old regional team (LIVBC).
"Being a part of the club team and playing the same position I do for the school helped me to play at a higher level. It forced me to improve and become a better volleyball player," said Kerr.
As for the future, he hopes to continue playing.
A leader on and off the court, Evan Kerr will make an academic mark, as well a mark of future spikes hitting the court.