Athlete of the Month: Michele Lammers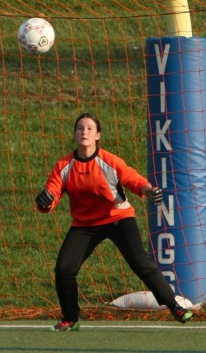 Speed, courage, agility, mental toughness, quick reflexes, and ball-handling skills are all important qualities for a successful soccer goalie.  Junior Michele Lammers possesses them all.  She has been on the varsity soccer team since her freshman year and has been their starting goalie since she was a sophomore.
Having a talented goalie on the field helps take pressure off the rest of the defense.  Lammers recognizes this and takes her role very seriously.  This is reflected in her impressive season, in which she led the AA-2 conference with 88 saves.  She had a season-high of twelve saves, twice, in games against Syosset and Carey.  Lammers' consistent play has helped propel her team to second place in their conference.
Lammers' success is not just due to her impressive skill, but to her team-first attitude as well.
"I try to be a leader in the back and inform the players of what is going on all over the field," said Lammers.
As a goalie, Lammers has an excellent view of the field and it is vital for her to communicate tactics and strategies  to her teammates.  As Peter Shilton, a successful former English soccer goalie said, a goalkeeper must excel at organizing and motivating the players in front of him or her.  In this area, Lammers succeeds.
"She's an amazing goalie and her presence is very valuable to the team," said junior Alexandra Zweiner.  "We wouldn't win any games without her."
Her role model is goalkeeper Petr Cech, who plays for Chelsea F.C.  and the Czech Republic.
"He is an amazing goalkeeper and directs his defense so well," said Lammers.
It appears that Lammers is following in his footsteps.