Military trend charges the fashion battlefield: March into the season with the latest styles from military inspired clothing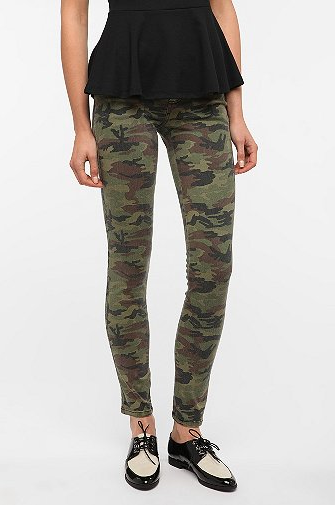 Atten-tion!  Military style is aiming for this season's top trends list and has hit number one.  If you're tired of resorting to a boring black hue to match with your everyday outfits, challenge yourself with a hint of military green.  Though these greens and camouflage prints usually cause one to blend in, this trend definitely makes you stand out.  But be aware, because you do not want to shoot and miss while incorporating this style into your latest looks!
This fall, military-inspired attire began to pop up everywhere.  Displayed in tops, jackets, pants, and shoes, this trend is hitting all parts of the style spectrum.
Although black is a color that is shown all year round, green has challenged it on the battlefield and appears to have emerged victorious.
Try wearing military style skinny jeans with a brightly colored top.  Before this trend, many would assume that black bottoms are the only option when trying to match with bright colors.  Combining the colored top with military inspired pants will not only serve as a replacement for black bottoms, but will create a more edgy, on-trend look.
"I own a military style jacket and it goes with almost everything I own.  The dark green color is as universal as black, but gives you a more casual look," said junior Bomin Choi.
Military style jackets are the most popular item reflecting this trend.  As the weather becomes colder, the search for a new jacket begins, and many end up buying them in more common colors such as black or white.  The military trend is allowing you to put up a fight against the typical winter apparel this season.
If you're really into the trend, buy a military-inspired jacket in green or a camouflage print.  In addition to standing out against the crowd, your military jacket will be a stylish substitute for your usual winter jacket.
"I usually match my military inspired jeans with neutral colors, but depending on the style, I definitely think that they would work well with bright colors and patterns as well," said junior Emma Schildkraut.
Most military inspired jackets and pants tend to look very similar.  There are only so many shades of green and varieties of the camouflage print, and some are searching to take this trend to the next level.  Many clothing lines are beginning to reconstruct military jackets by replacing the original sleeves with either black leather or denim.  Details such as zippers, pockets, and studs are being added as well.
One thing that you have to be careful about when trying out the military trend is making sure you do not wind up looking like you actually belong in the military.  Often times, mixing a military style jacket with military style pants will make you look like you're ready for combat rather than a day at school.  You can march with confidence by wearing this trend properly.
Military inspired pieces are being featured in top designer clothing lines in addition to streetwear brands. If you're looking to rebel against the norm this season, the military trend is one you should look into.