Express your style through your fingertips: Nail polish is becoming more than just a second hand accessory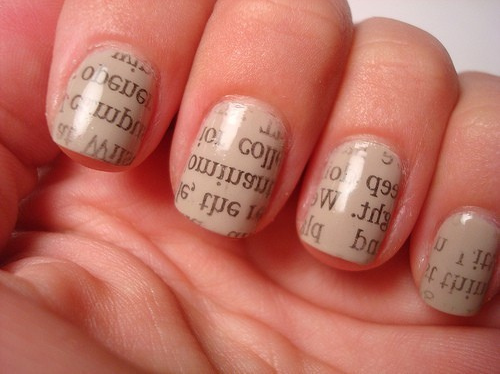 Glitter, gel, beads, foil, rhinestones, studs, stickers, and newspaper (yes, you read that right)—you name it, and it can be put on your nails.  For the past year, enhancing your fingertips with more than just a solid color polish has become a huge trend.  Girls have gone on a nail-craze, from tie-dying their tips to printing the latest news on their fingers.
A superior accessory, nail polish is not permanent, and it can be changed at any time according to one's outfit or mood.  A bottle of nail polish fits everyone's budget and the brands and colors are endless.  An average bottle ranges from $4 to $10, and can be found anywhere from drugstores to designer boutiques.
In addition to being cheap, trendy, and versatile, nail polish and nail art are great ways to spice up your style.  Though many believe that their fingertips go unnoticed throughout the day, your nail condition, color, and design say a lot about who you are.  Painting your nails is a great way to make sure that they stay healthy during the harsh winter weather, and adding some eye-catching nail art never hurts!
Your local drugstore is a great place to start when looking for nail polish and accessories.  Sally Hansen nail polish can be found almost anywhere and produces hundreds of nail products that are moderately priced and work well.  The Salon Effects Real Nail Polish Strips are their most popular product and come in forty different colors and patterns.  These stickers are the best alternative to sitting and waiting for your manicure to dry, and once you file them down, you're free to touch your nails as much as you want.
If you're on the adventurous side and want to create your own nail design rather than stick on a pre-made one, Sally Hansen's Nail Art Pen is perfect for the task.  These pens allow you to style your nails however you desire and feature a fine-tip, which makes the pen easy to control, and a mistake-proof formula which is perfect for any mishap.  At $7, the Nail Art Pen is a great way to add art to your nails without paying for a pricey professional.
While beauty stores like Sephora and Ulta are a little more expensive when it comes to nail products, their selections are definitely worth the cost.  Sephora sells many nail polish brands and accessories that cannot be found at your local drugstore or salon. Nails Inc. London is an English brand exclusively sold at Sephora in the United States.  One of their best sellers, the Wave Magnetic Nail Polish, has been a big hit among nail enthusiasts.  The magnetic wave phenomenon not only  impressed buyers, but offered them a dazzling nail-painting experience that transformed right before their eyes.
Ciaté, another English nail polish brand sold at Sephora, puts a twist on typical glitter polish.  Along with their solid color polishes, Ciaté offers a "Caviar Manicure."  Their Caviar Manicure set comes with a bottle of a solid color polish and a bottle of mini "pearls" or beads.  If you're tired of a flat manicure, and are willing to pay $20, a Ciaté Caviar Manicure is definitely something you should invest in.
"I like the brand Ciaté because of their caviar beads," said senior Chloe Klug, "The beads are different from anything I've ever worn on my nails before."
Although there is an abundance of products you can buy to enhance your nails, there are many ways to get creative without out having to purchase anything in addition to the nail polish.  Tie-dying nails, also known as water marbling, has become very popular within the DIY nail community.  All it takes is a simple base coat, drops of a different colored polish mixed in a cup of water, and a little bit of patience.
"I love to tie dye my nails. It is a lot easier than it seems and is definitely more fun to look at than just a basic solid color," said junior Kelly Nardone.
Newspaper nails are undeniably one of the most inventive nail art projects out there.  They require a base coat of white or grey, rubbing alcohol, and cut up pieces of newspaper.
After dipping each nail into a cup of rubbing alcohol,  hold a piece of newspaper against it until the print appears and add a top coat to ensure that the image doesn't wear off.  Forget reading the news online, now you can read The Schreiber Times from your fingertips!
Nail art has emerged within the last year and the trend continues to grow.  Many websites, blogs, and books are dedicated to nail polishes and accessories alone and attract many followers.  Coloring and designing your nails is a chic yet cheap way to embellish any outfit and  have fun while doing so!