Find the perfect winter wear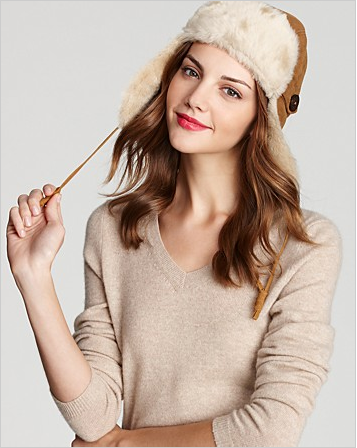 When the cold winter hits, there is only one way to stay warm: bundling up!  Now that temperatures are plummeting below freezing, wearing just a jacket will not suffice.  Though it may keep you warm, walking around in your puffy coat is not ideal (especially when it's the same one you've had for the past three winter seasons).  Adding winter accessories to your wardrobe will not only keep the chilly winds away, but it will allow you to follow this season's trends without splurging on a new coat.
This season, trapper hats are leaving the hunting grounds and making their way onto the runway.  These furry hats will last you hours in the wilderness.  With an insulated hood and oversized ear flaps, trapper hats will keep you both toasty and trendy.
The classic winter hat, the beanie, has made a large comeback.  Though beanies are far from new,  people are choosing them for more than just staying warm this season.  Beanies are loved for their versatility.  Wool beanies are perfect for the outdoors, but if you're looking to wear one with an everyday outfit, thin knit beanies are best.  Scarves are another must-have.  Infinity scarves are among the most popular, providing a stylish alternative to a typical accessory.  Unlike traditional scarves, these are knit in one large loop.  With a couple of wraps around your neck, your infinity scarf will sit flawlessly, without leaving two lengths of unwanted fabric.  Similar to beanies, these scarves can be worn both inside and outside, so make sure to pick the material of your scarf accordingly.
When it comes to keeping cozy, gloves are the most aggravating accessory.  Many people are faced with the decision of whether to keep their hands warm or keep in touch with their friends.  With few people willing to surrender the ability to text, many opt for frostbit fingers rather than comfy phalanges.  Texting gloves, which allow you to interact with modern touchscreens, are the perfect solution.
Make sure to stock up on winter accessories now before you're left to fight the wintry winds on y       your own!