Classic Album: Aaron Carter: Aaron's Party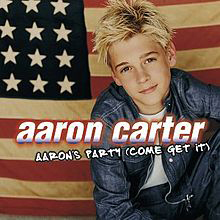 We all remember Aaron Carter.  Rising to instantaneous fame at the young age of 9, he was the musical icon of our elementary schools.  Who can forget happily belting catchy tunes like "I Want Candy" or memorizing the upbeat raps of "Aaron's Party?" Fans of the Nickelodeon movie, Jimmy Neutron: Boy Genius most likely remember his hit single entitled, "Leave It Up To Me."
Unfortunately, Carter was long gone by the time his fans hit middle school—the last time most had heard his name, it was attached to either of two grave phrases: "went to rehab" or "dancing with the stars."
Among his fans, however, Aaron's Party will never be over. To most teens, Aaron Carter was the epitome of a good time. With his sanguine pop songs (that are so quintessentially 90's), he allows nostalgic listeners to momentarily leave the complicated realm of maturity, and remind them of the innocent and fun-loving spirit that they shared as children.
The songs of his hit album Aaron's Party are not incredibly complicated, intricate, or even musically impressive.  Nevertheless, listeners will welcome this simplicity with open arms because it's so much gosh-darn fun to listen to.
After a long day of stressful schoolwork, Carter's lighthearted and playful tunes will transport reminiscent teens into a carefree world devoid of all adult commitment.
Telling the story of Carter's "party of the century," the title track perfectly portrays the fun-loving, mischievous side of childhood.  The tune opens up with a peppy rap in which Aaron contemplates ways to get rid of his parents, persuades his friends to drop their work, and sets up the essential theme of the album.  Other songs that display this buoyant and lackadaisical viewpoint include "Life is a Party," "Fun with the Funk," and "Bounce."
Also evident in Aaron's Party is a youthful sense of confidence, imagination, and innocence. For example, in the endearing track "That's How I Beat Shaq," a tiny Aaron Carter tells the outlandish tale of a basketball game with the gigantic Shaquille O'Neill.
And, despite his friends' disbelief (and the realization that the game was just a dream), he sticks to his story with absolute certainty, claiming that he knew "he could take him."
With his songs "Girl You Shine" and "I Want Candy," Carter emulates this same youthful vibe.  Perfectly portraying the innocence and longing of a first crush, these songs may not express the same confidence and swagger as "That's how I Beat Shaq" but nevertheless relate the emotions of a very important part of childhood.
The juvenile humor in Aaron's Party is even more entertaining to older listeners.
In these singles, as Carter professes his love and devotion to a theoretical girl, he paints the picture of a love-struck boy unsure of how to act on his newfound feelings.  His music helped countless young listeners deal with their feelings.
Evaluating Carter's album as a whole gives a sense not only of nostalgia, but of familiarity.  The tracks on Aaron's Party are easy for former superfans to sing along and bob their heads to.
Observing his "poppy" tunes and gangster-like swagger, modern listeners came to the realization that Aaron Carter was precisely the Justin Bieber of the decade past.
And this is really no surprise.  After all, the two artists would undoubtedly have the same dictionary definition.  Aaron Carter and Justin Bieber are both teenage heart-throbs possessing unusually feminine voices and a faux-gangster swag.
Drawing inspiration from the same muses of "the dream girl" and the taboo "party of the century," Bieber has even emulated Carter in his many of his music videos.  For example, "Carter-esque" elements are clearly seen in both the video for "One Time" and "Beauty and a Beat."  These similarities perfectly explain Bieber's unparalleled popularity.  Together, Aaron Carter and his hit album represent something near, dear, and familiar to our generation.  Because we subconsciously see so much of Carter in Bieber, we naturally gravitate toward his music.
With its peppy and youthful tone, Aaron's Party warmly welcomes us back to our childhood and has the power to liven us in times when we need it most.  A bad economy and dificulty schoolwork are both problems that can easily be resolved by giving Aaron's Party a quick listen.  Stressed teens who need a pick me up should definitely give Aaron's Party a spin.
So when you need an antidote for all things complicated and adult, I would highly recommend Aaron's Party.  It is a fantastic throwback and, all in all, a joy to revisit.