Female AOM: Brenna Betsch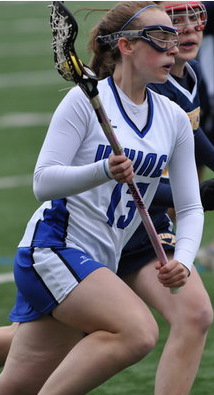 When senior athletes at Schreiber suit up for their final games, there is always a bittersweet mentality.  For the vast majority, it will be the last time they will compete at a high level and they will go on to excel at another activity.
This is not the case for senior Brenna Betsch, who was one of three Schreiber athletes to sign National Letters of Intent to play at Division I schools next year.  Betsch has committed to playing lacrosse in the 2014 season for Sacred Heart University.
"I'm extremely excited to go to Sacred Heart next year," said Betsch.  "I've already met all of the other recruits and the team and I can tell it's going to be really fun."
Her acceptance into Sacred Heart's lacrosse program is the culmination of the stressful Division I recruitment process.
"It's a lot of pressure to do well when you're at recruiting tournaments and events like that," said Betsch.  "You have a mix of emotions because you're excited the coaches are watching but you're nervous at the same time.  In the end, it's completely worth it."
Unlike many college-bound athletes who spend their entire childhoods dreaming about the day they get to play for a big university, Betsch took a more alternative route to her sport.  After playing lacrosse in third grade, Betsch quit after her fourth grade year.
"I quit because I didn't like it.  But once I had the opportunity to play in middle school, I started back up again.  I also knew I wanted to play a sport in college.  I came back to lacrosse when I realized I could go to the next level, and I fell in love with it again," said Betsch.
In Betsch's freshman year, Port went undefeated in the regular season.  In her junior year, the Vikings made it all the way to the Conference I semifinals before losing to number one ranked Massapequa.
Betsch's contributions to the team go beyond the stat sheet.  As a primary defender she does not garner the flashy statistics such as goals and assists.  Instead, she heads a defense that consistently holds the opposition in the single digits.