Guide to find the perfect prom dress
With prom season coming up, the search for the perfect dress, shoes, and accessories has begun.  Girls are browsing both the Internet and boutiques for their ideal ensembles in preparation for one of the most memorable nights of junior and senior year.  Often, girls are clueless when it comes to beginning their search. What stores should I look at?  Do I want a short dress, or a long one?  Which color looks best on me?  Although these questions along with numerous others are  racing through the minds of many, once you set out on your journey to find your dress, everything will become much more clear.
When it comes to finding a dress, creating a list of stores where you would like to visit should be your first step.  While there may be an infinite amount of dresses to choose from online, starting with in-store shopping will allow you to get an idea of what style, fit, and color look best on you.  Of course, dresses can be found at most local boutiques and retail stores, but unless you have an exact idea of what dress you would like to wear, heading over to a department store will provide you with a much larger selection.  Macy's, Nordstrom, Lord and Taylor, and Bloomingdales are great places to start. These stores not only have racks upon racks of dresses, but they will cover many trends, fits, and colors that girls are looking for when it comes to prom.
This prom season is all about being bold. From funky cutouts to disco-like metallics, this year's prom dress trends are far from the traditional styles that are usually displayed.  Though some of these trends can be intimidating, prom is a time to take risks.  A prom only occurs once in a lifetime (well, for Schreiber students, twice) but, it should be a night that you will remember for the rest of your life.  And what's the harm of wearing something a little different?
Whether you choose one of these trends or decide to take the traditional route, pick a dress that you feel both comfotable and confident in. To have the perfect dress, you need to feel perfect while wearing it.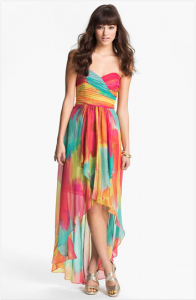 High-Low
High-low dresses give you the best of both worlds. With a short dress in the front and long dress in the back, this style is perfect for a night out and a formal event.  High-low dresses come in a variety of styles and fabrics, from strapless to halter tops, and chiffon to jersey knits.  The high-low trend can be worn for junior and senior prom, and will provide you with a fun twist to your typical prom dresses.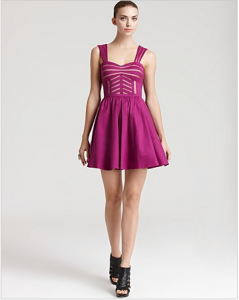 Fit and Flare
While it is a top trend for prom this season, fit and flare dresses are dominating the runways as well.  With a fitted bustier and flowy skirt, fit and flare dresses will work with any body type.  This style accentuates your bust in addition to slimming your legs, and leaves you with a picture perfect figure.  Fit and flare dresses are versatile whether they are short or long in length, and give you a spot on look for prom.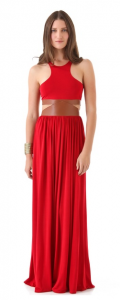 Cutouts
One of the top prom dress trends of the season is cutouts.  While some may be apprehensive about showing off a little skin, wearing the proper cutout dress will leave you with as much confidence as if you were covered up.  Slits on the sides, back, and neck of dresses allow you to flaunt the trend without being too risque.  Cutouts will not only add shape to your figure, but they will also incorporate an edgy feel to your look.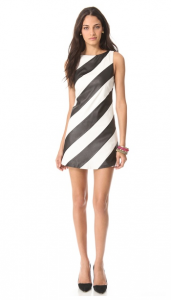 Color-Blocking
Color-blocking is the most daring trend of prom season.  Though the abundance of shapes and colors can be overwhelming, this trend can be toned down if you pair it with neutral accessories.  Black and white striped dresses are popping up everywhere, along with color-blocked dresses divided by hue.  If you're willing to stand out at prom this season, sporting a color-blocked ensemble will be the way to go.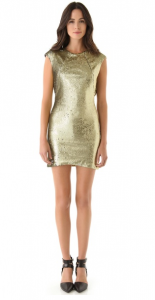 Metallics
Sequins, rhinestones, studs, and beads are being adhered to all types of dresses this season.  Although shimmering styles are always shown during prom, metallics this year are taking it to the next level.  Some dresses are dripping with liquid metal and others are sparkling with intricate beading.  Whether you want a lot of shine or a little bit, there are many options when it comes to wearing the metallic trend.