Cutting meat out of your diet doesn't have to be impossible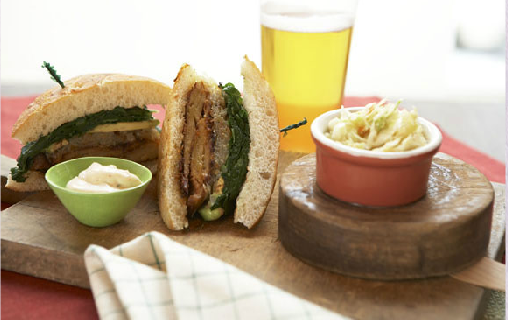 Vuh- vuh- vegan?  Yes, that's right, vegan.  For those of you who do not know, vegans do not eat meat.  Just kidding; that's vegetarians.  Vegans don't eat any animal products.  No eggs, no meat, yogurt, cheese, milk, etc.  Many of you Ron Swanson-esq meat lovers may be appalled by the idea of never again eating a juicy burger.  While becoming a vegan can certainly be an adjustment, it is not impossible.  And if you are against the idea of an all-natural diet, have no fear because you can still eat food with chemicals.  Mmmm…  chemicals.
Look, it's understandable.  Vegans can be annoying.  You don't want to know where your Big Mac came from, so why the heck is this "vegan" guy telling you?  It's because, underneath that layer of St. Ives body lotion, there is a real human being who cares about your health.
The quintessential question: "What do you eat?"
Just to clarify: vegans can eat more than lettuce and overpriced quinoa.  People never seem to understand that many foods are already vegan, or are very close to being so.  Salads, pasta, fruits, veggies, hot dog buns, tofu, soy, bread (not challah, unfortunately), wraps, sauces, cheese-less pizza, rice, grains, and much more, are all vegan-friendly.
For those transitioning from the omnivorous lifestyle to veganism, there are a vast array of soy meat products to ease the dietary change.  These range from things like Tofurky to Soy Dogs, and if you close your eyes real tight, count backwards from 1000 by 7's, and imagine sizzling steak at Benihana's in the shape of a heart, it starts to taste like the real thing.
People think that they could never live without meat, but it truly isn't that hard.  They pity you for your lifestyle, and state that they could never do the same.  You're a vegan? I'm so sorry.  There is no need to be sorry, and they ("they," meaning "you") could easily make the adjustment in their own life.  There is no need for any drastic changes, either.
You can still go out to dinner and enjoy the type of food that you like today.  Most restaurants will accommodate a vegan eater, and you can easily order a meal without the cheese or meat.  Substitutes exist for every animal product, so you won't have to miss eating the Celeste-wrapped hot dogs that you love.  Entire restaurants even exist for the vegan eater.  To make the transition easier, you can start by cutting out meat just once a week, and further diminish your consumption as time progresses.  Participating in meatless Mondays will have a huge impact on your health and the environment, and it is only the beginning of the veggie path.  Go on, do it.  I believe in you.
If you are ready to make the switch over to veganism, here are some suggestions of where to eat:
Witches Brew (311 Hempstead Tpke, West Hempstead, NY)—The interior of Witches Brew resembles a scary cave, especially around halloween.  Its blinding darkness can be a shock at first, but don't worry because your eyes will adjust.  Witches Brew's seating arrangement is somewhat unconventional.  Instead of chairs you'll find couches, and instead of "light" you'll find a fear factor reenactment.  The Brew happens to be very vegan-friendly, as it has an entire page on the menu for us "special eaters." From waffles to cookies to foccacia bread, there is a large range of animal-free foods to choose from.  As an added bonus, there is a massive spread of funky drinks for you to chose from.
Loving Hut (348 7th Avenue, NY, NY)  —Loving Hut, which is just three blocks away from Penn Station, is difficult to find if you are not looking for it.  The restaurant is the size of a large walk-in closet, so be prepared for a cozy eating experience.  Loving Hut is totally vegan, and has food that could be found at a regular restaurant such as quesadillas, heroes, mac and cheese, and stir-fries.
Caravan of Dreams (405 East 6th Street, NY, NY)—Tucked away in the East Village, Caravan of Dreams offers  vegan, vegetarian, and raw options.  It's dimly lit, which is partially because of its almost underground location.  Though Caravan has both vegan and vegetarian dishes, what makes it special is its variety. Open for three meals a day, Caravan serves berry pancakes with grilled bananas, beet ravioli, zucchini spaghetti, seitan taquitos, and many delicious desserts.
Candle Cafe (1307 3rd Avenue Between 74th & 75th St)—Candle Cafe, which has locations on both the Upper East and West Sides of Manhattan, offers organic vegan and gluten free foods while using "green" practices and supporting local produce sellers.  The homey interior decor and delicious dishes are warm and inviting.  The house-made seitan dumplings, kale salad, Mediterranean wrap, and tropical freeze smoothie are all highly recommended.  Candle Cafe's dessert menu is one of its specialties. The carrot cake, soy ice creams, and gluten free options, which include brownie cheesecake, and chocolate mousse pie will leave you wanting more.