Luke Rizzo: Athlete of the Month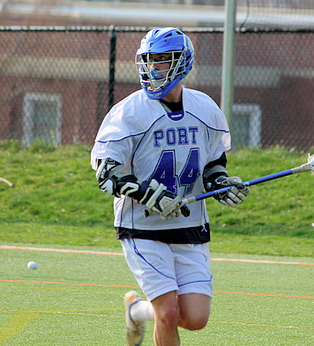 Junior Luke Rizzo is known for his ability to assist his teammates on the lacrosse field.  However, against Uniondale, it was Rizzo scoring the goals and his teammates setting him up for scores.  Rizzo scored five goals and two assists in that game.
"It was our second league game and I knew that it was going to be a much more competitive game than our last one against Uniondale.  That said, I knew this was my chance to step up and take action.  I stayed composed and got into the flow of the game," said Rizzo.
Prior to the game, head coach Tom Rooney told Rizzo that the game was on him.  He wanted him to put his skills to the test and, along with sophomore Joey Froccaro, led their team to victory.  Being the crowd-, coach-, and team-pleaser he is, Rizzo took leadership and did just that.
"He's a great kid, a really hard worker, and very dedicated to the team," said Rooney.
"The team played so great together and worked around the ball well," said Rizzo.  "Everyone was on the same page and I really believe that we are going to make a name for ourselves."
Rizzo began playing lacrosse in third grade.   Now, Rizzo encourages his teammates, like they encouraged him, to perform to the best of their ability.
"Luke is always looking to pass the ball," said Rooney.  "He cares more about getting other guys involved than actually scoring himself, and I think other kids feed off of that.  They realize that he is really unselfish.  They appreciate him and the way he plays."
"Luke is never criticizing anyone, always trying to make them better," said teammate Aaron Mevorah.
Rizzo loves being a part of the game.
"I think the most important part of being on a team is having fun with the people around you," said Rizzo.  "From March to June, we are family.  We win and lose together.  Being part of a team means dedication, commitment, and trust not just towards the game but towards the coach and especially your teammates."