Top five shoe trends to look for this spring; From pointed toes to chunky heels, make a statement with this season's shoes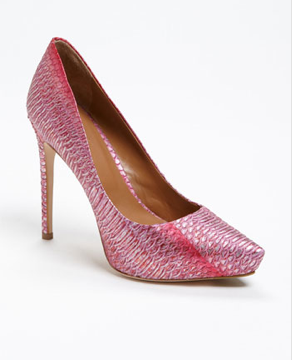 Now that spring is officially here, it's time to put your winter boots away and slip on your strappy sandals.  While wedges, booties, and flats will always be essentials for the season, new shoe trends are stepping into the spotlight this spring.
This season, the rounded toe is being pushed into the shadows.  Pointy toes are popping on many types of shoes, from the timeless patent heel, to the simple ballet flat.  Typically, pointed-toe shoes target a more mature crowd, but this spring's styles are bringing a youthful feel to the trend.  Pointed-toe shoes are just as versatile as round-toed shoes.  Though the difference in the two styles is only in the shape of the toe, pointed shoes create a more sophisticated look.  They have the ability to take a casual outfit and alter it into an ensemble for a night out.
Aside from being a top trend on the runway and in retail, metallic accents are sparkling on spring shoes as well.  Metallics, whether you chose to sport silver, gold, or a combination of the two, are a great way to polish an outfit.  Some may be apprehensive about wearing a shoe that is completely metallic, so there are many ways to incorporate the trend in a subtle way.  Shoes are being displayed with metallic cap toes, soles, buckles, and zippers, which allow one to wear the trend without it being too flashy.  If you're interested in making a statement, metallic shoes will definitely make you shine against the sun this spring.
High-top sneakers are causing major competition on the fashion playing field.  These shoes, which were originally intended for the basketball court, are now making a statement for spring 2013.  While these shoes would usually be paired with athletic shorts and a tank top, fashionistas and style icons are beginning to mix them with less casual and more formal wear.  Sporting high-top sneakers is a great way to make an outfit more playful.  By pairing jeans and a thin-knit sweater with classic white high-tops, you can transform your outfit from comfy-casual to sporty-chic.
Sky-high stilettos are falling to lower heights as the chunky heel makes it way to the fashion scene.  This past February, chunky heels were seen stomping all over the spring runways.  Many are deserting their toothpick-towering heels, and replacing them with the trending chunky heel.  The thickness of the heel allows for stability and gives an outfit a unique and quirky flair.  Although this heel may seem more casual than the typical thin heel, you can easily dress them up by wearing a dress or a skirt.  Chunky heels are a must-have for spring, and will definitely be a trend that will continue on throughout the summer.
Out roll the moto-boots and in walk this season's booties.  Western-inspired boots, stemming from the styles of cowboys, are riding up to the runway and retailers.  Many designers are incorporating a western taste on the boots for this spring, making them  specific for the upcoming desert-like weather.  Booties are being showcased in all different styles, ranging in material, detail, and heel height.  In addition, western-inspired boots come in a large variety of colors, from taupes to cognacs, and beiges to grays.  These boots can be worn with anything you desire, but if you wish to keep up with the western trend, try adding a jean vest or a fringe jacket.
Whether you chose to flaunt one of these trends or decide to stick to the traditional spring styles, stock up on this season's shoes before others
kick you to the curb.