Softball team goes undefeated in conference play: Despite regular season success, team falls in first round of playoffs to Carey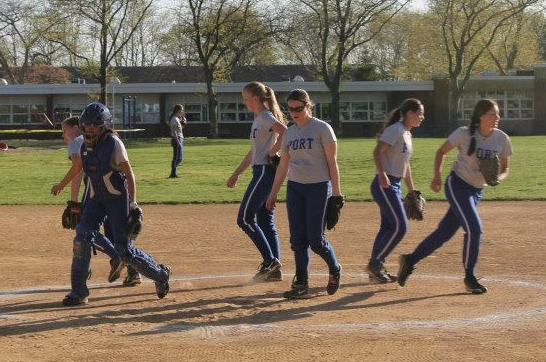 In a total domination of its league, the varsity softball team closed out the regular season undefeated in conference play, with an overall record of 14-2.   While their postseason hopes were dashed with a 5-0 defeat to Carey in the first round, the loss does not diminish all that the team accomplished throughout the year.
Led by captains senior Jackie Avila and junior Alex Caprariello,  each member of the team put in the work to become better, culminating in regular season success.
Caprariello was ranked as an all-county pitcher this season, winning a total of eight starts.  In perhaps the strongest game of her career, a 15-2 win on April 16 over Valley Stream Central, Capariello went 3 for 4 with seven runs-batted-in and three home runs, while also striking out seven in four innings, allowing only one run.  Senior Georgia Goodman also brought pop to the plate, going 4 for 4 with four runs scored in the regular season finale against Valley Stream Central, a 13-6 win.
The team also excelled philanthropically, raising money for cancer at the Day at the Diamond Strike Out Cancer fundraiser, which took place on April 27.  Pink streamers and balloons surrounded the Guggenheim field as the team, along with the other baseball and softball teams from both Weber and Schreiber, raised over $3,000 for cancer research.
"This was a rewarding experience because it felt great to do something we love while raising money to help others," said freshman Ariana Gabriel.
Of course, an undefeated season cannot be the result of isolated accomplishments from individual players; it is the culmination of an entire team's efforts and performances.
"Our great season resulted from the hard work and positive attitudes of every player, both as a team and as individuals.  We wouldn't have been able to have such an accomplishment without working together," said freshman Bari Cohen.
One factor contributing to the team's success was the size of the roster. Due to the lack of players trying out, the softball  program was only able to field a varsity quad of 22 players.
In addition to providing depth to the team, the large number of players enables the team to have full scrimmages during practice.  The ability to essentially play a game every day, as opposed to running through drills of batting practice and ground balls, is a seemingly untouched coaching ground.
"Having the number of players we did this year really proved beneficial when it came to our hitting.  We were a lot stronger at the plate, largely thanks to our ability to have live batting practice every day.  It also gave our pitchers and opportunity to throw live sessions as well.  Finally, we were able to set up game situations with runners and practice how we would approach them," said Head Coach Mr.  Eric Sutz.
Going into the season, there was a sense among the players that other schools did not expect Schreiber to make much noise.
"We wanted to get the respect we deserved after being ranked lower than we thought we should have been at the start of the season," said Avila.
After their undefeated regular season, the team certainly has gained that respect, and has also raised expectations for the future. These expectations are further elevated by the fact that many team members are underclassmen.   The team includes four freshmen as well as three eighth graders.
"The young girls are athletic, talented, and have a love for the sport that will grow in the years to come. They always gave it their all, and that has set a new precedent for what is expected of them from years to come.  The team has a very bright future," said Avila.