Soundview movie theater reopens after its closing two years ago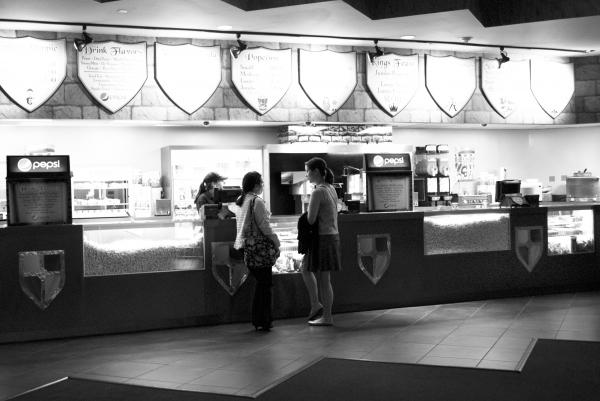 The newly renovated and highly anticipated Soundview Cinemas is open for business.  Located in the Soundview Marketplace, the theater opened on April 26 with much anticipation after the theater's closing two years ago.
"The reason this place was shut down was because the previous tenants which was Clearview, went into rent-lease negotiations that broke down, and they decided it was best that they walk away but that's different from us," said Mr. Jordan Denser, who owns Soundview Cinemas.
Upon coming through the main doors of the theater, people are transported to a mythical and enchanted place.
The brick walls, statues of knights, shields, medieval flags, dragons and glowing lights, all add to a medieval atmosphere unlike that of any other movie theater.
"I wanted it more than just a movie theater.  I wanted it to be a destination, not just an ordinary theater, " said Mr. Denser.
Mr. Denser's desire to have a unique themed theater required many changes from Soundview's old structure.
"Every single thing in the place is different.  Tile work, carpet, new sound, new projectors," said Denser.
The theater's extensive renovations have created a much cleaner, more modern building.  Each of the six theaters, which can accommodate between 150-235 patrons, has luxurious leather chairs.
"The whole theater is medieval themed, which is very fun.  Since we are selling food, it means that there is a lot of extra clean up for the staff," said senior and Soundview Cinemas employee Jennifer Park.
Mr. Denser and his team are hoping that with the new theater will help revitalize business in Port and in the Soundview Marketplace, more specifically.
"Word is getting out there.  We are doing a blast with flyers to every single house in the area in about two weeks when all the movies like The Fast and Furious and Epic start to come out," said Mr. Denser, who has also had the theater featured in Newsday and The Port Washington Patch.
The renovated theater certainly offers a different moviegoing experience in comparison to its Main Street movie theater counterpart, especially with all of the food.
Soundview Cinemas provides a number of food options for its customers.  Nathan's hot dogs, Nathan's french fries, Hebrew National hotdogs, chicken nuggets, pizza, White Castle hamburgers, popcorn, candy, and all types of drinks are available at the concession stand, making Soundview Cinemas more than a just a movie theater.
The future looks bright for the new and and imporved Soundview Cinemas.