Bareburger gives typical burgers a new flair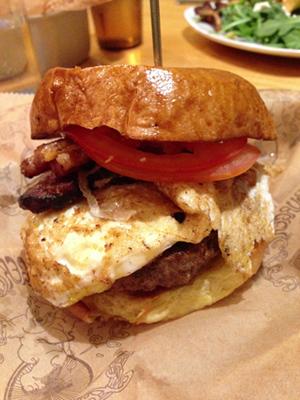 Move aside Smashburger—there's a new king of burgers in town…or, rather, a few towns over.  Bareburger, a Queens-based "micro-chain" that recently opened in Great Neck, is far superior to the undercooked and occasionally raw meat and poultry provided by Port's Smashburger.
Situated at 32 Middle Neck Road, Bareburger boasts a large menu, which offers more than your ordinary hamburger.  While Bareburger does serve the typical hamburgers, turkey burgers, and veggie burgers, it also gives patrons a chance to try something new and exotic like bison, ostrich, wild boar, and elk.  Moreover, all of Bareburger's products are all natural and organic, and most ingredients are locally sourced.
Bareburger provides its customers with plenty of options.  In fact, there are so many options offered by their slightly wired but very friendly servers that meat lovers may feel overwhelmed.  Bareburger's "barest burger" menu allows customers to build their own burgers by picking their choice of meat,  buns (brioche, multi-grain rolls, and wraps), and fixings like fresh vegetables, cheeses, and sauces.  Bacon lovers will also enjoy the numerous types of bacon offered, such as applewood thick cut bacon, country bacon, turkey bacon, and hardwood smoked brisket.
Even the "set" menu at Bareburger isn't exactly set in stone since the customers still need to choose the type of meat and bun; the only difference is that the toppings are already established. The restaurant, which has a takeout menu in addition to its in-house options, also has a number of gluten-free and vegan options like the black bean vegan burger, mushroom burger, farmer's quinoa veggie burger, and the gluten-free tapioca rice bun.
The salads at Bareburger are just as delicious as the meat.  In case you miss the meat, salads can be ordered with a "topping," meaning that any of  Bareburger's patties can be served on the side of your salad without the bun.  It sounds odd, but it is actually a very nice compromise between ordering a burger and a salad.  All of the salads can be ordered as a large or a small, but the small is sizeable, especially if you order a burger on the side.
Other side dishes or appetizers also include a variety of regular burger place staples, such as onion rings, french fries, chicken tenders, and pickles.  However, other interesting options include crispy spicy pickle spears, crispy zucchini sticks, and panko breaded butter pickle chips, as well as carrot sticks and apple slices.
Healthy but sweet dishes are also offered for those who still crave dessert after their interesting meal at Bareburger.  Caramel Pecan Cheesecake or Flourless Chocolate Cake are offered with caramel or chocolate sauce, as well as apple tart, fried banana walnut fritters, and vegan carrot cake.  Drinks include Hot Honey Milkshakes, root beer floats, and banana fosters milkshake.
Bareburger, which is open from 11 am to 11 pm, offers breakfast in addition to their extensive variety of burgers.  Carrot cake French toast, buttermilk waffle, eggs and fried chicken and waffles are part of the thorough breakfast menu.
In addition, Bareburger's menu offers delicious sandwiches like the Italian, or hass avocado bacon chicken, awesome snacks such as assorted pickles, crispy zucchini sticks, and fresh cut fries, and desserts like cakes and shakes.  Bareburger's food comes at a price.  The burgers on the menu range from $8.45 to $13.45, but the price varies depending on the type of meat chosen.
Specialty meats such as bison and ostrich, which we will admit are very tasty, tend to cost a dollar or two extra.  Believe us, it's well worth the price.  The extra 15 minute drive is well worth your time as you will have an usual dining expereince.