A tale of two Yankees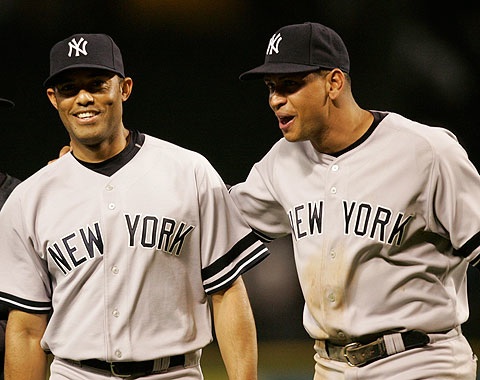 Generations of Yankee fans have had the privilege to witness the legendary and winning tradition of the most successful organization in American sports.
Although any franchise has had its own triumphs and legends, no team can compare to the uninterrupted winning tradition of the New York Yankees.
From Lou Gehrig and Babe Ruth's "Murderer's Row,"  "Joltin'" Joe Dimaggio, and the core four era, the team has never failed to please its fans.
They have won 27 world championships, the most of any franchise in American professional sports.
While the success of the Yankees has been a constant, baseball itself has drastically changed.  The 90's saw the beginning of the steroid era.
Over the next twenty years, baseball's reputation was tarnished as regular coverage was overshadowed by stories of illegal performance enhancing drugs and perjury trials.  This is not only true of the Yankees, but of baseball as a whole.
Ryan Braun, the 2011 National League MVP, denied using steroids right up to the moment he was caught.
Melky Cabrera, a former Yankee, actually won the National League batting title in a year in which he was suspended for steroid use, although he rightfully gave up the title.
Also, there are players like Barry Bonds and Roger Clemens, who were  condemned by their drug use to a much smaller chance of making the Hall of Fame.
In a game which has always reveled in numbers, their statistics now seem meaningless and incomparable to those of former greats like Ruth, Roger Maris, and Hank Aaron.
However, as depressing as it is to be a baseball fan in these troubled times, there is one player who has consistently been a superstar both on and off of the diamond.
This player is the legendary Mariano Rivera, who is retiring after this season as the greatest statistical closer in the history of Major League Baseball.
He throws an unhittable cutter, has ice water in his veins, and has broken as many bats as opposing players' spirits.
The moment that opponents hear the opening bars of  Metallica's "Enter Sandman," Rivera's iconic entrance song, blaring through the Yankee Stadium loudspeakers, they know what is inevitable: another Rivera save and Yankee win.
Rivera, a 13 time all-star and five time World Series champion, has earned numerous achievements and accolades over his illustrious 19 year career with the Yankees.
The reigning All-Star MVP and 1999 World Series MVP has compiled 652 regular season saves and 951 games finished, both MLB records.
In each of the last 15 seasons, he has recorded at least 25 saves.
In the postseason, where he has been known to be at his best, he set records in saves with 42, games pitched with 96, and most games finished to clinch the World Series with four.
As much as Mariano has contributed to the Yankees, he may have contributed more to society.
His charity, the Mariano Rivera Foundation, has raised millions of dollars for providing underprivileged children with an education both in the US and in his native Panama.
Rivera, a devout Christian, has also built several churches in Panama, Mexico, and the United States.
There is no better illustration of Rivera's fine character than his "farewell tour" over the past season.
Before his last visit to each Major League ballpark, he has had a meet-and-
greet with the stadium's employees and grounds crew, as well as with several lucky fans.
Often, those fans are selected because they have experienced tragedy in their lives.  Rivera asked for this because he knows that a few words from him might be meaningful to such persons.
He is a man who can be happy with what he has achieved, inside and outside the game, and he is an example to us all.
The Yankees have another immeasurably talented player who is an example of a different kind: Alex Rodriguez.
Rodriguez is arguably the only current player in the Major Leagues with greater statistical achievements than Rivera.
The three time American League MVP and 14 time all-star is the youngest player in the history of the game to ever hit 500 and 600 home runs, breaking records held by Jimmie Foxx and Babe Ruth, respectively.
Recently, Rodriguez hit the 24th grand slam of his career surpassing Lou Gehrig for the MLB record.
However, Rodriguez is not somebody that any of us would think of as a role model.
He has often been surrounded by controversy throughout his 19-year career in the Major Leagues, with nine of these seasons playing for the Yankees.
His steroid use and his related lies have been well documented. At the moment, he is appealing a 211 game suspension for drug use and obstruction of justice.
Rodriguez's charity has also faced scandal, reportedly donating only about one percent of its earnings to charity.
He has been shown to be a bad sport during games, including an incident where he shouted to confuse a Toronto Blue Jays third baseman so former teammate Hideki Matsui could score.
Last postseason, during an important playoff game against the Detroit Tigers in which he was benched, Rodriguez was caught flirting with spectating fans, asking for their phone numbers.
Rodriguez' phoniness, self-glorifica
tion, and alleged leaking of the steroid
use of teammate Fransisco Cervelli all
point to what is wrong with baseball in
the steroids era. Rodriguez, despite all of his accolades, is not someone to be emulated. Maybe if he did not resort to steroids for more home runs and money, he would not have an entire nation despising him.
A-Rod and Mo may be teammates, but they have played the games of baseball and life in different ways.
Rodriguez shows us that you can have all of the talent, all of the achievements, and all of the money in the world, but still be someone loathed by many.
His bad character has been shown by his constant use of steroids, along with his many displays of bad sportsmanship.  These factors, along with many others, have contributed to Rodriguez being one of the league's biggest villains.
By contrast, Rivera shows us that true success comes when you have good character along with talent.  He is considered one of the league's best; not only for his immense talent, but for his great sportsmanship.
Both players have legendary statistics, but when it comes to reputation, one is to be emulated, and the other scorned.
The principle of having good character also applies to Schreiber sports.
"All athletes should strive for respect," said Athletic  Director Stephanie Joannon.  "Respect in the way they handled themselves in victory and defeat, and the way they treated their teammates, opponents  and coaches.  Respect is earned and when athletes are solid people with strong values, they will come away and be remembered as someone special who would be called a great teammate and competitor who played the game the right way.  When the game is over, they should come away saying they never gave up and they played the game the right way; that is, honoring the game, the opponents, the coaches and the officials."