Breaking Bad becomes NaTiONAl sensation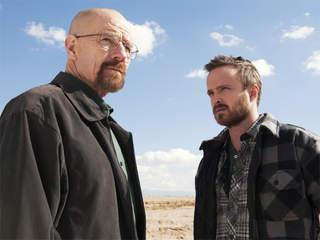 It may seem atypical for the protagonist of a television show to be seen mainly in a negative light.  However, to be a viewer and enjoy watching the evil protagonist make dangerous and horrible decisions is even more odd.  After receiving 13 Emmy nominations including a win for Oustanding Drama Series, it is crystal clear that Breaking Bad is anything but ordinary.
Aug. 11 marked the beginning of the final season of the critically acclaimed drama that has snowballed since its beginning as a small show.  Executive Producer Vince  Gilligan's series has one of the most enthusiastic and passionate followings of a television program in recent memory.  Breaking Bad revolves around an overqualified high school chemistry teacher named Walter White (Bryan Cranston), who, diagnosed with terminal cancer at fifty, decides his best option is to make and sell methamphetamines to secure his family financially.
Walter reconnects with his junkie former student Jesse Pinkman (Aaron Paul)  and the unlikely duo ventures out into the New Mexican desert, populated by sparse shrubbery, psychotic drug lords, and paychecks the size of public storage garages.  Ultimately, the world in which Walt places himself transforms him, as creator Vince Gilligan puts it, "from Mr.  Chips to Scarface."
Breaking Bad is at its finest when viewed as a character study.  Creator Vince  Gilligan has developed some of the most complex, multidimensional characters on television.
Throughout the course of the series, Jesse's sensitive and kind heart starts to show through his character's actions.  Walter appears to be driving in the opposite direction.
At first, Walter comes off as a mild-mannered man with a normal, middle class life; however, when the story hits turbulence, his morals and decisions are constantly questioned as he resorts to extreme measures to keep him and his family safe, and in doing so, breaks the definition of bad.
These characters feel as if they could actually exist and suffer adversities that, while sometimes too mind-numbing to process, are extremely realistic.
The show demonstrates the heartbreaking portrait of the decay that comes with power and greed.  To give specific examples would tarnish the show for newcomers.
Walter's actions are extremely questionable, sometimes making certain scenes breathtaking, tear-jerking, and tragic, leaving the audience amazed and asking for more.
Such success obviously has to be credited, at least in part, to the leading actors.
Bryan Cranston's portrayal of Walter White is an acting feat that has earned him three Emmy wins for best actor.  Coupled with Aaron Paul's Emmy winning role of Jesse Pinkman, the pair's sophisticated chemistry has defined Breaking Bad through its five  season run.
Comic relief comes through Walter and Jesse's hilarious criminal lawyer Saul Goodman (Bob Odenkirk). With fantastic direction, flawless and ingenious writing, stunning cinematography, and a beautifully composed score that fits the tone of every scene, Breaking Bad is a must see televised event.
Although fans of the show are no doubt disappointed that the series has come to a such a polarizing end, Breaking Bad will undoubtedly go down as one of the best dramas in the history of television.