Tensions rise between Nicki and Miley after the VMA's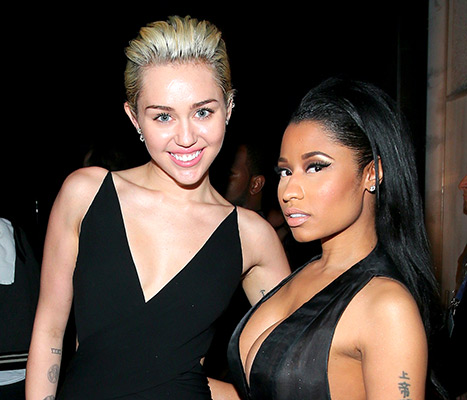 Everyone loves a good celebrity feud.  Whether it is Kanye West versus Taylor Swift or Jay Leno versus David Letterman, both of which are now resolved, the drama is non-stop and always entertaining.  The latest feud, between Nicki Minaj and Miley Cyrus, which escalated during the MTV Video Music Awards, has proven to be one for the books.  Fans find themselves wondering: how did the fighting start?  Is it because of how different the two mega stars are?
Minaj is a rapper, singer-songwriter, and actress who got her start with Young Money Entertainment in 2009.  She is known for songs such as "Super Bass," "Starships," and her latest hit, "Anaconda." She is considered one of the most influential female rappers of all time.  Her style of rap is known for its fast flow and use of alter egos.  Her suggestive music videos and lyrics have captured the attention of millions of loyal fans.
Cyrus is a singer-songwriter, and actress whose career blew up after she was cast as Hannah Montana in Disney Channel's hit series Hannah Montana.  In 2012, Cyrus ditched her good-girl image for a more sexual one while promoting her fourth album, Bangerz.  Cyrus' image became similar to Minaj's.  Both are known for their suggestive songs accompanied by even more provocative music videos and performances.  Cyrus founded the Happy Hippie Foundation in 2015 to help gather young people to fight injustices facing homeless youth, LGBT youth, and other vulnerable populations.  Her foundation has gained tons of support and has helped countless teens.
The whole mess started when Nicki didn't get nominated for the Video of the Year award at the VMA's and Taylor Swift did, which prompted Nicki to make a comment about the relationship between race and the nominees.
Miley, in an interview with The New York Times, said how she felt about Nicki "whining" over not getting nominated for the award, adding that she was not surprised by Nicki's comment because she is not a very nice person.
Nicki wasn't happy with what Miley said, which she made clear at the VMA's this year.  When Nicki came on stage to accept her award for Best Hip-Hop Video she made a direct shot at Miley who was the host of the show.  The two proceeded to shoot comments back and forth at each other, which only escalated their problems.
Sources close to Nicki say that she won't hesitate to confront Miley if they're ever in the same place.
Many find it hard to believe that such a small comment could turn into such a huge feud.  For both women, feminism is a cause close to their hearts, but the ways in which they have expressed their views have been different.
Minaj's views seem to lean more toward intersectional feminism, which acknowledges that people of different races and backgrounds will face slightly different issues. In contrast, the views of both Swift and Cyrus have been criticized as "white feminism," which does not bring race and issues relating to race into the fold.