Let it snow, let it snow: activities to make snow days great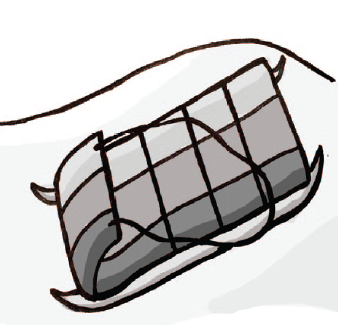 We have all done it. We have gone to our snow day calculator and prayed for a possible snow day or a delayed opening.
Snow days are truly magnificent.  It is because of this glorious unexpected hope for a relaxing day off that so many of us participate in silly traditions such as wearing our pajamas inside out, or putting a cold spoon under our pillow.  So, when we are blessed by the snow gods with that fortunate day, there are endless options on how to cherish it.  From bringing out your adventurous side and bearing the cold to cozying up with friends and family in fuzzy socks, your options are endless.
One of the most popular ways to spend a snow day is playing in the snow.  No matter how old you get, playing in the snow for many never gets old.  Before you prepare yourself for a fun day in the cold, the first thing to do is to bundle up.  There is a wide variety of things to do, including sledding, having a snowball fight, making snow angels, building a snowman, or simply lying in the white snow.
"Although just lying in the snow may sound kind of silly, it is actually so comfortable," said junior Maddy Weiner.
Due to safety reasons, we are no longer allowed to use what used to be the most popular sledding spot: the Plandome Golf Course.  However, there are several locations in Port that allow for a safe, enjoyable sledding experience, such as the hill behind the post office and North Hempstead Golf Course.
Making a snowman is also a very fun way to enjoy the snow day. It can bring out your creativity, using whichever materials and methods to build your new friend.
After your fun day in the snow, there is nothing like coming inside with your fuzzy socks on to a warm, tasty cup of hot chocolate.  You may choose to top it off with whipped cream, M&Ms, and/or marshmallows.  If you're really looking to bring out your culinary side on this snow day, go to Pinterest, Buzzfeed, or any other website to find some different ways to make this beverage even more decadent.
Many students choose to spend the day off with their friends.  Hosting a snow day party is a good way to celebrate your unexpected break.  You could invite all of your friends over in the morning, not too early of course, and have a fun brunch.
"Making chocolate pancakes and singing frosty the snowman is a snow day tradition in my house," said sophomore Sophie Roth.
After this breakfast feast, you could go outside and build a snowman or have a giant snowball fight.  Then, end the day by cozying up by a fire, watching a winter movie classic such as Home Alone and drinking hot cocoa.
Once you get to high school, these days off seem less and less like a day off.  Students nowadays are overloaded with work.  It is because of this that when they are given a day off, they need it as a catch up day.
"Even if I wanted to go outside and go sledding on a snow day, I couldn't because I have to take the time to study and catch up on school work," said junior Celia Christake.
Whether you're spending your day inside or out, with friends or alone, a snow day is a much-needed day off from the stress of school. These unexpected days off are honestly a gift.  Just make sure to end your snow day by checking tomorrow's prediction!