The battle of the classes ignites school spirit: Spirit Week promotes friendly competition among the classes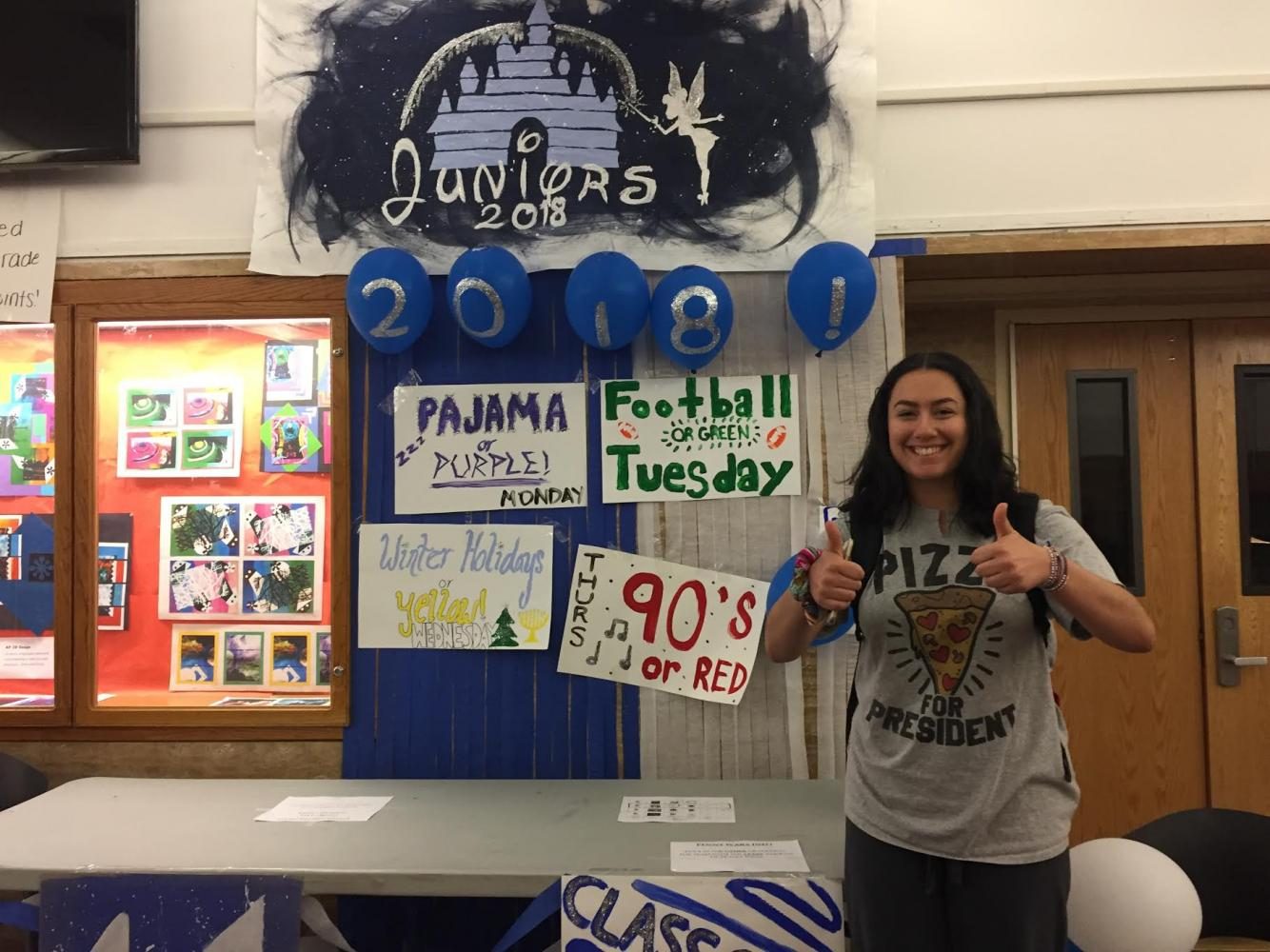 Jackeline Fernandes, Staff Writer
May 18, 2017|255 Views
Spirit Week at Schreiber brings five days of excitement to students and staff.  This long standing springtime Schreiber tradition allows students and teachers to express their school spirit by wearing clothing that corresponds to the different themes each day that lead up to the Pep Rally at the end of the week.  This year's Spirit Week occurred over the span of the week of April 24.
Throughout the week, students are invited to dress up according to the different themes each day in order to show school spirit.  Monday April 24, the first day of Spirit Week, was pajama day.  The theme for Tuesday was sports day; freshmen wore baseball apparel, sophomores dressed up as basketball players, juniors were football players, and seniors wore clothing relating to country club sports, such as tennis.  Wednesday was holiday day; freshmen dressed up for St. Patrick's Day, sophomores for Valentine's Day, juniors for winter holidays, and seniors for the 4th of July.  Thursday was decades day; freshmen wore clothing corresponding to the 50s, sophomores to the 60s, juniors to the 90s, and seniors to the 80s.
"I really like Spirit Week because it's an interactive way for people to dress up and have a fun time," said freshman Holly Bricault.
Battle of the Classes takes place throughout Spirit Week as well.  Each grade can earn points if the students in that grade show school spirit by dressing up and offering to participate in the games during Pep Rally.   The grade with the most points by the end of Spirit Week wins.
"Students can dress up in the theme chosen for that day and stop by the tables in the main lobby during 4-1 or 4-2 to sign in to earn points for their grade," says Spirit Week coordinator Mrs. Lauren Foster.  "At the sign-in tables, there will be packets explaining each event at the Pep Rally and people can sign up there."
"Since it's a tournament between grades, people actually care about Spirit Week," said freshman Derrick Weisburd.   "I'm definitely going to dress up to help our grade win."
The spring Pep Rally will be taking place in the Schreiber gymnasium on the afternoon of Friday April 28, the last day of Spirit Week.  Freshmen and juniors are to wear white while the sophomores and seniors are to wear blue, which are the Schreiber colors.  With shortened class periods, spirits run high by the end of the school day when hundreds of students pour into the gymnasium to sit with their grades on the bleachers for the Pep Rally.
"Pep Rally is fun because you get to not only miss class, but also spend an hour in the gym with friends, having a great time by showing how your school has had an influence in your life," said sophomore Serena Tapia.
All games at the spring Pep Rally are between grades, unlike the fall Pep Rally where activities are between school sports teams.  If a certain grade wins a game during Pep Rally, they earn points for their grade and are one step closer to winning Battle of the Classes.  Some events at this year's Pep Rally include Human Hungry Hungry Hippos, Gone Fishin', Hula Hoop Relay, and Tug of War.
This year, the senior class of 2017 is determined to win Battle of the Classes since it is their last time celebrating Spirit Week at Schreiber.
"Dressing up and participating is fun for seniors because it's our last year," said senior Karina Catu.  "We're planning to go all out."
Despite the healthy competition that Spirit Week, Pep Rally, and Battle of the Classes brings between grades, all of these events help to unify the entire student body.
"The bottom line is that it brings us all together," said Tapia.  "We are all from the same school and we are all Vikings."