1984 disturbs viewers with its graphic violence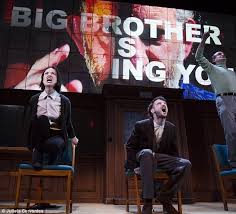 Olivia Wilde has taken her talents from the screen to the stage and is officially a Broadway star.  Her big debut show, 1984, is based on George Orwell's best selling novel written in 1949.  It is by no means light and fluffy; even calling it intense would be an understatement. You must be at least thirteen years old to enter the theater due to the show's high intensity level.
There have also been many reported injuries due to the play. Wilde, along with fellow cast members Reed Birney and Tom Sturridge, have suffered injuries such as a broken tailbone, dislocated rib, a busted lip, and a broken nose.  Four audience members have actually passed out while watching the play and many others have thrown up during a performance.  One time the show got two audience members so worked up that when the lights came back on, they got into a physical brawl and the police had to be called.
The audience trauma caused by this play relates to its subject matter.  It takes place in a future dystopian and totalitarian state. The people in this fictional state have democratically voted on the dictatorship styled government after slowly forgetting the power of individuality and accepting it as their fate. The government is known as "Big Brother," and is always watching you to make sure you are a loyal citizen.  If you are not loyal under this surveillance state, bad things will happen to you and your family.
Wilde plays the main character, who is a government spy. Throughout the heavy plot there is also a hidden love story. Most importantly, the play reminds people to remember their individual rights and to stand up for what they believe in.
"I just saw the play a few weeks ago," said sophomore Emily Levine.  "It was an awesome experience. The whole entire cast was amazing, as well as the story."
The show opened after previews in London on June 22 at the Hudson Theater in New York City, and will close on Oct. 8.
"I heard that the play is really cool and interesting. I would love to go see it someday" said sophomore Josie Harris.
The multimedia stage is very high tech, and there is a video portion of the show during which Wilde acts behind stage, and her image is projected onto a large screen.
Writer and director Robert Icke and Duncan Macmillan have brought to life a government that uses propaganda, brainwashing, and fake news in order to emphasize the power of citizens and their government. What they did not plan, however, is the political state and separation our country is currently in.  Many feel that now more than ever, the message of this show is important and necessary for all to hear.  However, this play is definitely not for everyone.
"The play was not like a usual play," said sophomore Ava Fasciano.  "It was intense and creepy but I loved it. My only advice would be look away during the torture scenes if you're like me and don't like blood."
Even if you love theatre, you should be aware there are torture scenes which are very graphic, with lots of blood and violence involved.
1984 is a unique show with a strong message.  It will take you on an emotional roller coaster, and remind you of the responsibility and power you have as a citizen.