New school year, you know what that means: New phones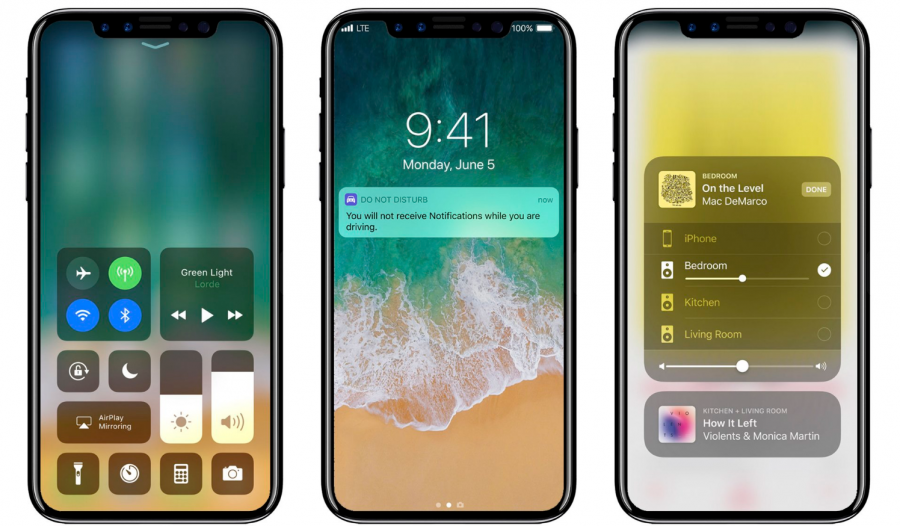 Kayla Hill, Contributing Writer
November 3, 2017
Everyone has been abuzz with anticipation of Apple's latest products. On their website, Apple describes the sleek, newly released iPhone 8 as  "a beautiful mind."  The iPhone 8 introduced an all‑new glass design, an improved camera, Apple's most powerful chip ever in a smartphone, and new wireless charging. The new glass exterior has not only increased the appeal of the iPhone, but has increased its durability as well.
"Compared to the iPhone 6s, the 8 is a much better version and the camera has amazing quality," said sophomore Maddie Hiller.
The new and improved camera has gotten positive feedback from iPhone users everywhere. Although the iPhone 7 does have a high-quality camera, the latest model has improved image clarity and has a number of extra features. For instance, the new iPhone now allows users to edit live photos, a feature which has gained plenty of traction from iPhone users worldwide.
"One of my favorite features of the iPhone 8 is that I can edit live photos," said senior Sofia Walzer.  "The new phone is also very cool looking and shiny."
Although there are numerous new features incorporated in the new iPhone 8, some think it's overrated and barely differs from the iPhone 7.
"The iPhone 8 is unnecessary, not that different from the iPhone 7, and overpriced," said freshman Ada Amarghioalei.
There is a slight improvement in the camera as well as the new glass back, but many believe that the iPhone 8 and its predecessors are nothing compared to the iPhone X, which will be released in early November. For those who are unimpressed by the iPhone 8, consider it a stepping stone toward the plentiful upgrades in the iPhone X. Though the iPhone X shares a number of features with the iPhone 8, such as the large screen and camera features, it has a number of brand-new options. The phone responds to a tap, your voice, and even a glance. Apple's latest innovation attempts is propelling technology into the future with features that could only be imagined when the first iPhone was released ten years ago.
Apple is not the only company making great strides in the smartphone industry. Google has recently released their Pixel 2 smartphone, making it one of the iPhone's top competitors. The new Pixel's appeal lies in the fact that it offers unlimited space for photos and videos. Google's Pixel 2 includes your own personal Google, built in allowing the user to request a ride, reserve a table and buy a ticket using just their voice. With the Pixel 2, you can "ask more of your phone," as Google's latest advertisements suggest.
"Google is always very accurate when it comes to searches, so I can only imagine the accuracy of a Google produced smartphone," said sophomore Kelsey Sy.
These high-tech phones pushing the boundaries of modern technology and constantly rendering the impossible possible.