KITH and KITH Treats make their way to the Americana Manhasset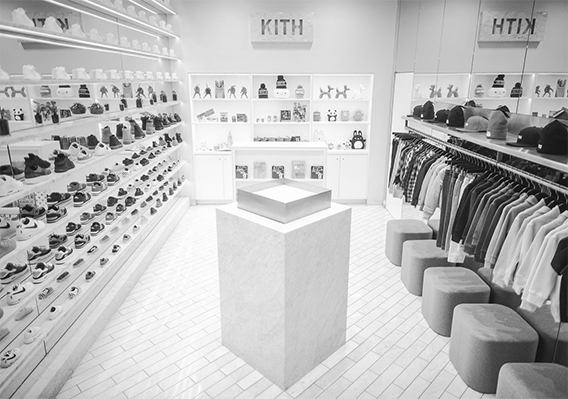 With sneakers, street-wear, and sweets, KITH is a store that has something for everybody. Originally founded as a high-end fashion and shoe store, it has become an icon of modern industry with locations in Manhattan, Brooklyn, Miami, and its newest branch in Manhasset. It is now known not only for its apparel, but also for the ice cream and milk shakes that are available. The luxury and extravagance of these items matches the elite wardrobes sold. But how did KITH rise from a small start up in downtown Manhattan to the internationally recognized fashion influencer?
Their story begins with Ronnie Fieg and his childhood interest in the high fashion scene. As a teenager, he worked for his cousin's high-end fashion store, David Z. The owner, David Zaken, would encourage his young protégé by slipping hundred dollar bills to him at family gatherings and allowing him to work up the ranks at his elite store, one of the first of its kind.
By 2007, Ronnie was near the top of the ladder and had become head of the store's Special Make-Ups (SMUs), which were design collaborations between the store and famous brands such as Puma, Adidas, and Asics. Fieg's designs were a hit and some would sell out on launch day. By 2010, he decided that it was time to set off on his own and with another investor, Sam Ben-Avraham, they put $500,000 towards two properties in SoHo and Brooklyn, which would become the first KITH stores in 2011.
Derived from the archaic Scottish "kith and kin," meaning friends and family, the store's name hearkens to the way Fieg sees the world and his friends as his family. The store was meant to create an intimate space where he could express his passion for fashion and continue to grow his brand and designs.
When the store originally sold only high-end sneakers, people would line up overnight, and online products would sell out within minutes. The store was surely a hit and had great promise for expansion. 2012 saw the launch of their original fashion lines that have now become a trendsetting industry leader. For years, they experimented with small runs and limited sales, but in Oct. 2014 the effort went into full force.
Another aspect of the store that makes KITH a go-to destination is their cereal bars and ice cream stations. Featuring dozens of types of cereal, ice creams, and toppings, getting treats at KITH is something that everyone should experience.
"KITH has been able to bridge the divide between people interested in fashion and pop culture with their own in-house clothing line in team with their cereal based ice cream bar, KITH Treats. Because of this, KITH is now one of the biggest influencers in fashion and retail at the moment, and it's still growing," said freshman Aidan Zeidman.
The ice cream from KITH isn't just any ice cream; it is a mixture between your favorite cereals such as Frosted Flakes, Captain Crunch, Cinnamon Toast Crunch, and many more. Then pick your favorite "mix- ins" such as Kit Kats, cheesecake bites, and cookie dough. To finish, you can choose either vanilla or chocolate ice cream. You can either pick your ice cream or shake off of a menu or be original and design your own.
In Dec. 2017, KITH and KITH Treats made its way to the Americana Manhasset. Located within Hirshleifer's, the store is not only selling shoes, but also ice cream. Students were ecstatic to hear that KITH was now on Long Island. Many traveled to the city just to get a taste of the famous KITH ice cream. However, now it is only about a 15-minute drive away. The Long Island store has shoes, clothing, and treats despite it being only a small sector of the store.
"I was so excited when I heard that KITH was coming to the Americana! I love the ice cream, so I'm so happy I don't have to go all the way into the city for it!" said junior Carly Hecht.