Should Schreiber diversify its selection of varsity sports?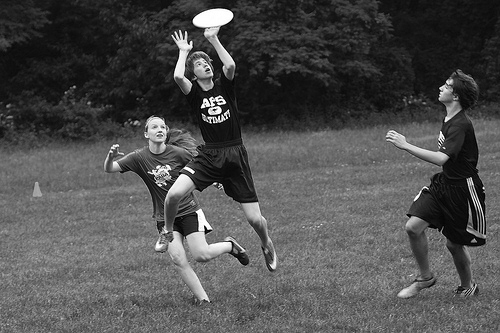 Sports are the perfect way to learn skills like teamwork, leadership, and hand-eye coordination. Many students participate in sports like football, volleyball, baseball, softball, and track. However, some people would prefer to take part in other sports which the school has yet to offer, such as ultimate frisbee, fencing, and ping pong.  These sports are offered at hundreds of schools across the country, but high schoolers in Port Washington do not have the opportunity to play them.
Ultimate frisbee has been a popular American sport since 1968, when Joel Silver created an ultimate frisbee team at Columbia High School in New Jersey.   Lafayette College was the first college to have a club for ultimate frisbee, and the first official collegiate game was played between Rutgers and Princeton in 1972.  A frisbee team would be an engaging and realistic option, as the game is extremely to play and frisbees are quite inexpensive. Frisbee has been growing in popularity for years. According to multiple studies, in an average year, more frisbees are sold than baseballs, basketballs, and footballs combined.
On Nov. 3, Vermont became the first state to recognize ultimate frisbee as a varsity sport. This decision will go into effect at the start of the 2019 school year. As more and more teams have sprung up across the nation, two governing bodies have also been founded.  USA Ultimate was founded for regulation of competitions in America, while World Flying Disc Federation was founded for international competition. Currently, there is some speculation about the possibility of ultimate frisbee becoming an Olympic sport. 
Sophomore Charlie Dash added "Frisbee should be a varsity sport because it includes not only physical activity but it also has a strategic aspect that makes it fun for everyone who plays." 
Schreiber should definitely consider possibly creating an ultimate frisbee team because it would garner a large variety of interest, and other schools have already started the movement.
Fencing, which has been popular since it first became a sport in 18th-century France, would be an excellent addition to Schreiber's athletic program. Like frisbee, fencing is easy to play, but the cost of equipment would be much higher, as fencers need protective pads and masks. Ivy League schools were the first to establish fencing teams, and the sport quickly spread to other U.S. universities. There are over 100 fencing teams across the nation, and colleges are allowed, under NCAA rule, to give out five full scholarships for fencing.
NCAA fencing championships began in 1941 and are held in March each year.  Fencing should be introduced at Schreiber because more mainstream sports such as football and basketball also have postseason NCAA tournaments. Fencing is also a thrilling sport to watch. Someone could be moments from a loss, but in just seconds, they could make a well-placed move and beat their opponent.  Not only is fencing played across the nation, but it is also a popular sport around the globe.  Fencing has been held at every Summer Olympics since 1896, the first modern Olympic Games.  A total of 30 nations have won medals in fencing events, and Italy currently leads the way with 49 gold.  Fencing has been around for centuries, and it's an Olympic sport as well.  Why should it not be played at our school?
Table tennis is also a popular sport that would attract many Schreiber students. Ping pong has been played around the world since 1901.  Other than a table, people only need two paddles and a plastic ball to be able to play this sport. The goal is straightforward: hit the ball in your opponent's half of the table.  Schreiber already has the necessary equipment for the game, as most students participate in ping pong in their Physical Education classes. 
"I think we should have a ping pong team because it's such a popular sport throughout Schreiber," said freshman Josh Rosen.
Because of the sport's popularity, more people might feel compelled to try out for the team. Unlike many contact sports, ping pong comes without the risk of head injuries, like football, or the risk of knee injuries, like basketball.
Ping pong has been played at the college level every year since 1985, and Colegio de San Juan de Letran is the reigning university champion, with 29 annual wins.  Like fencing, ping pong is also played at the Olympic Games and has been an event since 1988.  China has dominated this event with 53 medals since then.
People could easily start a rally with a friend, as the sport is easy to play.  Out of the three, this sport is arguably the safest and would be the easiest to implement.  All three of these sports should, with consideration from the school, have a team in the near future.  They are all being played at collegiate and even professional levels around the country, so Schreiber students should have the opportunity to participate.