Alumnus inspires students aspiring to be musicians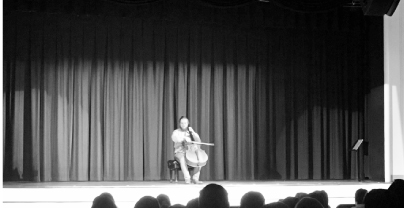 On Jan. 16, Schreiber alumnus Greg Stebbins held a cello performance for students and the music department.  The program consisted of Baroque music, such as the Bach Cello Suite No. 3 and the first Movement of the Boccherini Cello Concerto.  The solo stage lasted approximately 30 minutes and took place in the auditorium.  Although the performance was brief, Stebbins was able to deliver a powerful performance and convey his passion for classical music to the audience. 
A graduate of the Schreiber class of 2015, Stebbins studies Cello Performance and Music Education as a junior at SUNY Fredonia School of Music.  
"Accommodating him was the pleasure of mine to be able to do so, as well as the experience of the kids and the opportunity here with high-quality music,"  said Mr. Pinelli. 
Stebbins came back to Schreiber upon the special request of Mr. Pinelli and performed excerpts of his upcoming junior recital for his degree on Feb. 24 in front of many students.  He will likely pursue a music career in the future with a focus on the cello.  
"I always come back and see Mr. Pinelli!  He suggested that I come play as a way of recital prep, as well as a way for the students of Schreiber to see somebody who graduated and was pursuing music," said Stebbins.  "I see myself teaching as many cellists, young and old, as I can."  
Stebbins had memorized each concerto and played the cello continuously without an accompanist or lengthy breaks between pieces. 
"It was really interesting.  He was really passionate about it, you could tell.  His pieces that he chose weren't really my favorites, but they were really well played," said sophomore Julia Brickell.  
Stebbins made sure to contrast the musical styles of Bach and Boccherini with a quick intermission and allotted a few minutes to provide a bit of background on both music compositions.  
After the Boccherini, which featured incredible musical ranges and technical arpeggios as well as a strong melody, his deliverance of an overall smooth performance made the compositions sound easy to play despite the intricacy that lies behind the musical details.
"He definitely gives like encouragement and a definite venue for future musicians," said junior Paul Young.  "His performance can also inspire newer musicians especially amongst the underclassmen or really anyone in the music field."  
During the final moments of his performance, Stebbins asked the audience for any questions.  During this Q&A session, many of the students asked for advice as aspiring musicians.  
"If I could give some advice to future musicians, it would be to not rush into things," said Stebbins.  "Sometimes, you can feel like you need to be the best immediately, and that you have so much work to do in order to become the greatest musician you can be.  But what we usually forget is that we have our entire lives to mature as musician, there is no reason to rush past basic things when in the end they will make everything that comes later so much easier."