Senior Megan Mazzini ecstatic after breaking record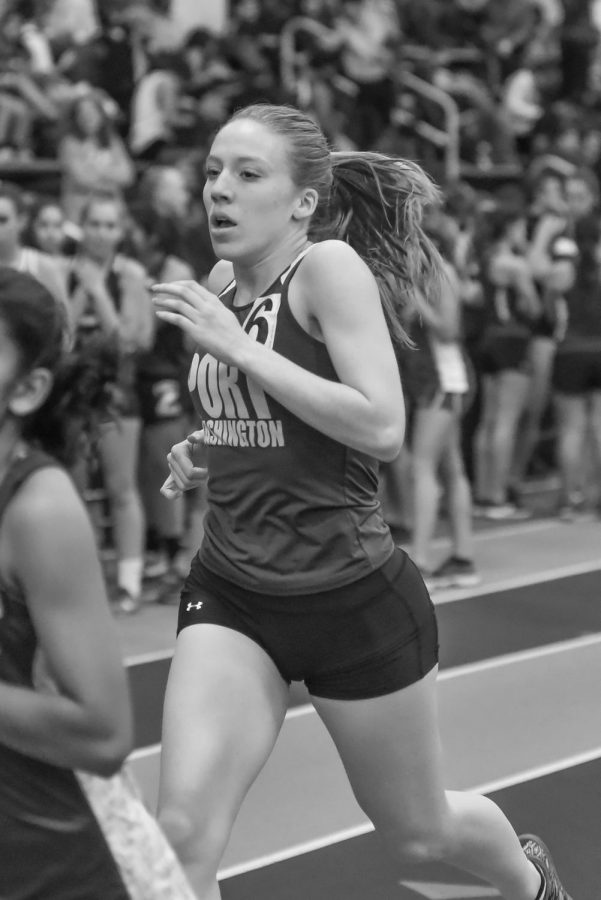 Daniel Dash, Staff Writer
February 16, 2018
There are few words to describe the sheer happiness of Megan Bazzini's ear-to-ear grin as she crossed the finish line of the 600 meter dash at her track meet in January.  Bazzini, who had only participated in the 600 meter event three times before in her three previous seasons of varsity track, was simply aiming for the state standard of 1:38.70 seconds.
Little did she know, she would soar beyond the state standard and land in the school record books.  Bazzini's time was 1:36.20—good for fifth place in the state.  Megan's reaction was perfect for the moment.  Because she was only the Port Washington participant at the meet, she was there alone with her coach. 
"As soon as I passed the finish line, I just kept running towards my coach," said Bazzini.  "When I reached him, we had the biggest hug.  He broke the news to me that I qualified for nationals, states, and broke the school record all in one race.  It was an amazing feeling."
Prior to Megan's 1:36.20 time, the previous record was set in 2014 by alumni Jenny Aguilar. 
"Breaking the record was humbling, but the fact that Jenny held it before me made it even more special," said Bazzini.  "She was a senior when I was a freshman, and she's definitely one of the best runners the Port Track program has ever had.  I always looked up to her in a way where didn't think I could ever ever achieve her level of success, but here I am breaking her records.  It feels unreal, but in the happiest possible way." 
The Port Track program has a lengthy history of success against Nassau's most competitive opponents, and now Megan's name is forever etched into its legacy.
The race itself had a last minute change of plans to make it all possible.  Going into the meet, Bazzini was ranked 14th in the competition.  This would've placed her in the third fastest heat, but the meet officials decided to scrap the predetermined heat system before the race.  Megan described this new race structure as a "free for all," and she knew it wasn't something she was used to. 
"I knew I needed to hit a fast time so I squeezed my way to the front of the line to the first heat," said Bazzini.  "There were nine of us total and I was number eight.  The only thing going through my head was 'hit the state standard.'  In fact, I had no clue about the school record before the race began.  I finished fifth in my heat, with two girls ahead of me from New York, one girl from Philadelphia, and one from Connecticut." 
The moment after crossing the finish line was one of the best moments of Megan's athletic career—a career that boasts a long list of accolades in her sport. 
"When I race, my coach usually yells times at me and tells me if I need to keep my shoulders straight, among other tweaks on the fly," said Bazzini.  "When all he was saying was 'GO GO!' and 'YOU'RE GOOD!', I knew I was definitely going faster than ever before. When I saw the time at the finish line I can't even tell you how shocked I was. I was thrilled. Like I said, it was only the fourth time I raced in the 600 meter dash. The first time I ran a 1:45.00, so a nine second drop in a mere six weeks is a huge deal in the mid-distance world. I'm so proud of what I was able to accomplish."