Women take charge in the newest Marvel installment, Black Panther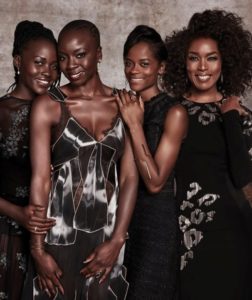 On Feb. 16, dedicated comic book readers were able to see their favorite characters come to life in Black Panther, and fans of the Marvel franchise got to enjoy another piece of the Marvel universe.  The story follows the new king of Wakanda, T'Challa—played by Chadwick Boseman—as he navigates the struggles of being the Black Panther.  Over the course of the movie, it is revealed that there is another contender for the throne, Erik Killmonger, who comes to claim it from T'Challa.  The two struggle between their beliefs on how Wakanda should use its resources to care for others of African descent outside of their homeland.
"I thought it had a very interesting plot, and it also reflected a lot of real life issues in the world today," said junior Chris Milcetic.
Killmonger's ideas are more radical, as he wants to eliminate all oppressors, whereas T'Challa decides that, should he be victorious, he will use Wakanda's resources to help the underprivileged.
 Black Panther also gave African Americans and women significant representation in their movie.  In the movie, African Americans, who are often underrepresented in Hollywood, played lead roles and took center stage at the Oscars.  Women were also wonderfully represented in the film, as the women of Wakanda are powerful warriors who fight for their country and beliefs along their male counterparts.
"It's absolutely amazing.  It just goes to show what happens when all different types of people are represented in film," said junior Julianna Marinelli.
This kind of representation was long overdue, which is in part why so many people flocked to the theaters to see the film. The has made over $1.1 billion after just one month in the box office. "It's excited to see all different people represented, and makes me hopeful for a more diverse future," said junior Gaby Chu.
The film has already made it to the top 30 of highest grossing films.  This places the movie among films like Toy Story 3, Rogue One, and Pirates of the Caribbean: Dead Man's Chest.  Many of those movies have been up there for years, but Black Panther climbed to the top within several days.  Go see Black Panther in theaters before it's too late!