Daly holds its first interactive Family Literacy Night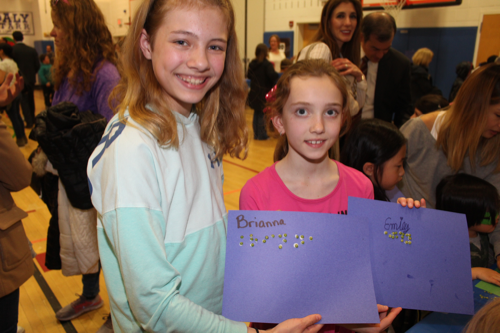 On April 19, Daly Elementary School hosted its first ever Family Literacy Night.  It was held from 6:30 to 8:00 pm in the gymnasium.  Parents and students were welcome to come to participate in fun and educational games created by students at Schreiber High School.  
"Eight students came up with these ideas after meeting with Dr. Suzzan and going to the elementary school once a week during their senior experience.  With this foundation set, three human development classes helped make them," said human development teacher Mrs. Margaret Rizzo.  
The night was open to all Daly students, even the preschool classes.  There were about 25 booths with games for the Daly students to play.  Some of these games included Mad Libs, a spelling bee, bingo, fishing for words and letters, crosswords, puzzles, and a booth where kids could make and personalize their own bookmarks.  
"Literacy Night was one of the best events we have ever held.  Having the Schreiber High School students running literacy games in the gym made the evening extra special," said Daly Principal Dr. Sherri Suzzan.  
There were also stations that were made to educate kids about braille and American Sign Language (ASL).  There was also a station where the kids collectively wrote a story.  Each student would add a sentence and it was displayed for everyone to read when it was completed.  Many of the kids loved the booths with the ASL, braille, fishing for words, and the interactive story.  
In addition to having the games in the gym, there was also a place in the Daly library where students could donate their gently-used books.  
"Some were kept in the library, some were giveaways for Daly students and 10 whole boxes were donated to a charity organization called 'The Book Fairies,'" said Daly librarian Mrs. Kimberly Pinto.
Some students even brought bags of books to give away.  
According to their mission statement, The Book Fairies "collect reading materials for people in need throughout metropolitan New York. The reading materials foster literacy and academic success, provide a respite from personal struggles, and nurture a love of reading across age groups."
Each of the five hundred students' work was also displayed during the night.  
"All of the teachers had their students complete writing projects and work was displayed outside of each classroom.  So families had the opportunity to walk around the school, as well as take part in the activities in the gym," said Mrs. Pinto.  
This helped encourage the kids to take pride in their projects and helped parents see their child's success in the classroom.  According to teachers and students who were at the event, it was a great night. 
"I personally thought it was a really cool experience, it was pretty hectic constantly working with younger kids but it felt worth it," said sophomore Youmin Park, who ran the coloring booth.