Music department recognized with prestigious award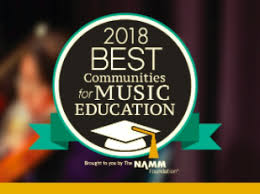 The Port Washington Music Department was recently recognized as one of the Best Communities for Music Education (BCME) by The National Association of Music Merchants (NAMM) Foundation for the fourth consecutive year.  This awards program is designated for community leaders, teachers, administrators, parents and students who exhibit considerable effort and dedication for improving the curriculum and expanding the scope of music education.  
Out of the 14,000 public school districts, Port Washington has been chosen among 583 school districts as recipient of the prestigious award for exemplary music leadership and large diversity of music programs. 
"The Port Washington Music Department has helped so many students like myself grow as a musician, and I have witnessed its growth over the past 9 years.  Port Washington Music Education definitely deserves this award and I am really proud," said senior Sherry Shi. 
Each year in Port Washington, there are a high number of students who participate in selective local or state festivals, various counties, and group divisions based on their instrumental or singing skills.  In 2013, sixty-nine student-musicians performed at the annual Nassau County Music Educators Association (NMEA) All-County Festivals.  
This year, the number increased where there were a total of 79 participants in the music festivals.  As more students are engaging in music-related activities not only within the school but outside music communities as well, the endless support from the Board of Education and Central Administration encourages music education to be an accessible and viable resource for interested students.  
"I felt a sense of pride for the music department and for the district to be recognized that way.  It goes to show how great the music program is and demonstrates our musically gifted students and staff," said junior Victoria Kaller. 
  Over the past week of April, the NAMM Foundation and the University of Kansas selected hundreds of school districts in 41 states and 135 individual schools in 35 states across the nation for those that have never been recognized or received recognition multiple times.  
The BCME and Support Music Merit Award (SMMA) are evaluated based on funding, evaluation of music staff or teachers, program intensity, comparison of music education to core curriculum and continuous commitment.  One of the KU faculty members, Christopher Johnson, mentioned how music and the arts are critical aspects of the core curriculum and define student musicians as exceptional critical thinkers and good listeners who are able to persist through all kinds of adversities. 
The Foundation emphasized the importance of teamwork and community support as factors which further the success of music education and promote widespread awareness amongst younger generations or possibly young musicians. 
"I think Schreiber has a great and inclusive music department.  As someone who switched instruments coming into high school, I felt very comfortable making that transition.  Our music department is definitely worthy of the award they received," said sophomore Kayla Hill. 
The music teachers were thrilled by this achievement, especially since it was the department's fourth time being recognized by a nationwide organization.  Along with the striving passion of young musicians in the school community, the credit goes to the entire music faculty to which teachers dedicated their time to ensure high quality music education and provide the utmost experience to students. 
"We are proud that the Port Washington School District has once again been designated as one of the Best Communities for Music Education in the United States by the NAMM Foundation," said Port Washington Director of Creative Arts, K-12 Kevin Scully.  "It is a reflection of not only the dedication of our tremendous music faculty and students, but also the importance that the Board of Education, the Central Administration, and the Port Washington community gives towards its music program and the arts in general."