The ultimate guide to waterfront restaurants in Port Washington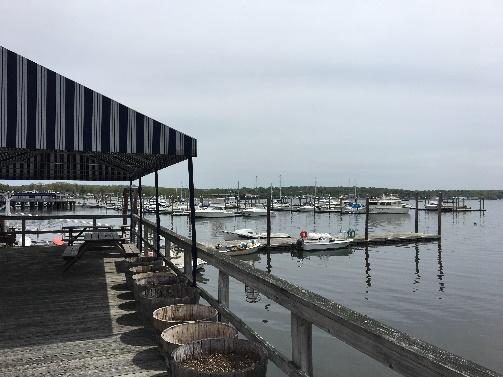 The weather has finally warmed up, and summer is just around the corner.  Port Washington residents are fortunate enough to have access to Manhasset Bay, which offers many opportunities for summer days spent outdoors on the waterfront.  In particular, dining on the waterfront at one of Port Washington's many restaurants is a luxury which comes with having direct access to the Long Island Sound.  
Louie's Oyster Bar & Grille has been in Port Washington since 1905.  It was first opened as a floating bar, but was converted to a seafood restaurant during the Prohibition era in the 1920s.  Currently, their dinner menu features lobster tacos, marinated seafood salad, and monkfish, but you can also go for the classic "Louie's Burger" with a side of fries. 
The food at Louie's is known for being fresh and delicious, but its location is what sets it apart from other establishments in the area.  Right on the water, Louie's has its own dock with outdoor seating.  
Located just down the road at 10 Matinicock Avenue, La Motta's is another seafood spot on Port Washington's waterfront.  The primary focus of the restaurant's cuisine is seafood with an Italian spin.  This includes dishes such as shrimp cocktail, clam chowder, and calamari.  The establishment itself is part of a marina, and has plenty of outdoor tables manned by a very friendly staff.  
Butler's Flat is opened for its seventh summer in Port Washington on May 15.  Offering a less expensive selection of food in a more casual setting, Butler's Flat is known for traditional New England clam shack meals such as stuffed quahog, shrimp, and scallops.  The eatery is part of Brewer Capri Marina on Orchard Beach Boulevard in Manorhaven, which is located on the opposite side of town, so anyone in the area can have access to high quality seafood no matter where they are.
Louie's Oyster Bar & Grille, La Motta's, and Butlers Flat are all wonderful restaurants in their own right, but there are many eateries in town which make up for their lack of waterfront view with a delicious variety of foods.  There is Ayhan's Mediterranean Marketplace and Café, which has everything Mediterranean from gyros to feta cheese pizza.  Further down Shore Road is Diwan, a restaurant that overlooks the Manhasset Bay with a fantastic lunch buffet of Indian cuisine.  Their Tikka Masala and Rosemary Naan are to die for.
  Right next door to Diwan is La Piccola Liguria, home of fine indoor Italian dining.  The waiters are known for their ability to recite a laundry list of specials every day, but the restaurant itself is a hidden gem which features expensive menu items and chic decor. Nikkei of Peru, a recent addition to this fine dining strip on Shore Road, specializes in a unique style of cooking which fuses Japanese and Peruvian cuisine.  They serve not only rolls and sushi, but also delicacies such as carpaccio.  
And while they might not have the patio views of La Motta's and Louie's, who could forget Amalfi's and Harbor Q?  Harbor Q is advertised as a smokehouse and has delicious cornbread and home-made potato chips with blue cheese sauce, as well as a wide variety of barbeque wings, pork, and beef.  Amalfi's proudly serves pizza, soups, paninis, and pasta dishes in traditional Italian style.  Both are well-known establishments that do delivery and take out.
Here in Port Washington, there are plenty of wonderful places to eat around the water, whether they overlook the docks or are across the street from the bay.  If you really want to involve yourself with the scenery, the Bay Walk Park welcomes picnickers to their tables, and you can always finish your meal with an ice cream cone from Sweet Treats on Inspiration Wharf and walk down to the docks to see the sunset.