Rule number one: watch The Kissing Booth on Netflix today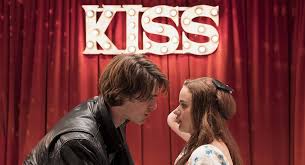 Recently, Netflix has released many of their own original shows and movies. Viewers are obsessed with the new releases and these films are quickly becoming all-time favorites amongst the younger viewers!
The Kissing Booth, one of the extremely popular new Netflix originals, star actors Joey King, Jacob Elordi, Joel Courtney, and Molly Ringwald. Interestingly, Joey King and Jacob Elordi, who play the main roles of Elle and Noah, are dating in real life.
Some people think that this couple is too good to be true, and just see it as a publicity stunt.  These two stars make an adorable couple and the public is enjoying their affectionate posts on social media.
The romantic comedy may seem like one of those quintessentially unrealistic high school films, and it most definitely is. Nonetheless, it's definitely worth the watch.
"The movie was exciting but I think it is slightly overrated," said freshman Avery Silfin.
Some claim this movie is just another ridiculous romcom with the classic characters simply presented in a more modern way.  Yet, the large majority of viewers enjoyed the predictability.
The main character, Elle Evans, is a late bloomer who does everything with her best friend, Lee Flynn. Since the Evans and Flynns are close family friends, the kids grew up together and have been essentially inseparable since birth.
Elle and Lee were practically raised together as siblings. Their friendship is something that they both cherish very much, and it is also a crucial part of the film's plot. Between hanging out at Lee's house everyday and running their dance club at school, these two teens spend nearly every waking second together.
The story begins when Elle and Lee decide on making a kissing booth for their school carnival. Elle and Lee's carnival idea, representing the dance club, progresses to cause a lot of the issues later in the movie.
"The Kissing Booth is one of the best movies I have ever seen and I couln't stop myself from watching it over and over again," said freshman Abbie Garfin.
Trouble seems to rise when Elle developed a little crush for Lee's older brother, Noah. Noah Flynn plays the role of the archetypical popular jocks in school. Girls are constantly falling for him, and leather jacket, and this begins to drive Elle crazy.
The exciting and dramatic plot of the story truly revolves around the list of  rules that Elle and Lee live by in order to maintain their solid friendship. They made this list together when they were only seven!
The main issue in the movie stems from the heavily influential Rule Number 9: "Relatives are totally off-limits." Later, we find out that Elle is no longer fond of this strict rule because her small crush on Noah Flynn developed to be much, much more.
At the kissing booth, most of the school was blindfolded and paid to kiss people. Elle was pushed onto the stage by the "mean girls" of the movie, which she calls the OMGs. Elle and Noah shared a kiss at the kissing booth when she was blindfolded, and it was nothing like she expected. This quickly turned into a romance that she would proceed to hide from Lee, breaking this sacred Rule Number 9.
Throughout this surprising movie, Lee comes to the conclusion that Elle did not care about their friendship because she was with Noah. In order to find out what happens in the end, The Kissing Booth is available on Netflix to watch anytime!
"Though it is like other romcoms and the standards are unrealistic, the movie was cute and I enjoyed watching it," said freshman, Sari Hartstein.
Though the movie may seem a little cheesy, the general response to The Kissing Booth is positive. If you are looking for a rainy day guilty pleasure film, this is definitely the movie for you!