Best options for pizza around town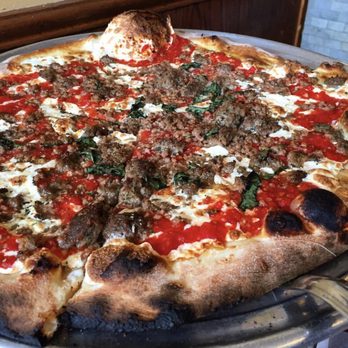 With so many high quality Italian restaurants in Port Washington and the surrounding area, it is difficult to make the decision of where to eat at.  But have no fear!  This article will guide you in the right direction towards the best Italian cuisine.
When school gets out and you're looking for an easy food option, where should you go?  There is a simple answer: Carlos.  Offering a rather affordable New York-style pizza only a five minute walk from the school, this restaurant can't be beat.  Order your food at the counter, and it's ready to eat in less than five minutes.  Carlos is the perfect option for an after school snack or a quick bite to eat.
Gino's is also certainly a community and student favorite.  Walk by any Friday and you're bound to see a long line out the door with eaters excitingly awaiting their bubbling pizza.  This restaurant offers a wide variety of pizzas, calzones, and other Italian favorites with its unique two-page menu that includes seasonal specials.  With reasonable prices and great service, why even bother cooking dinner at home?
If you're in the mood for a nice sit down Italian meal, Centro Cucina in Greenvale is the place for you.  This gourmet restaurant is only a short drive from Port!  Walk in their door and you'll immediately be greeted by friendly servers and the delicious smell of wood fired pizza.
The restaurant offers a wide selection of appetizers, salads, soups, pizzas, fresh fish, meats, chicken, and homemade pasta.  Though a meal at Centro Cucina can sometimes be a bit expensive, your high quality dining experience will be worth it.
When you're looking for quality Italian food to fix your hunger, you're sure to find it in one of these restaurants.