Mac Miller's sudden death sends shockwaves through the music industry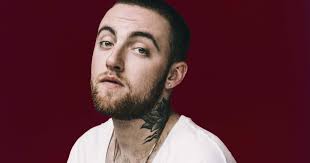 One of the world's leading millennial rappers, Malcolm McCormick, or Mac Miller, passed away this September.  The 26-year old musician was found dead at his home in Los Angeles due to a suspected drug overdose.  Miller's legacy will be remembered as the rapper who devoted his life to making music and spreading awareness about the problems of youth his age.  His memory will live on in the hearts of his fanbase, which spans across the world.
"He made some good music and it's an unfortunate loss to the music industry," said junior Robbie Meade.
The star's journey began at the age of 14.  Miller always dreamed of being a singer and began to rap in middle school.  In 2007, Miller released his debut mixtape, But My Mackin' Ain't Easy, which garnered the interests of many people.  Eventually, the mixtape became a mainstream hit and segued into other albums such as How High, The Jukebox: Prelude to Class Clown, and The High Life.  Two years later, Miller participated in the MC competition at Shadow Lounge and made it into the final four.  At just 17, he signed a record deal with Rostrum Records in 2010.  Near the end of 2010, Miller went on his first tour, "The Incredibly Dope Tour."  The tour quickly sold out in hours and expanded worldwide, gaining recognition from fans around the world.  The dedication Miller put into his music career at such a young age eventually launched him into a successful artist next to big names in the industry like Kendrick Lamar, Macklemore, and Eminem.  
"I loved his music and he was amazing, but he battled a drug addiction," said sophomore Zoe Steinberg.
Along with the fame, Miller struggled with personal issues that resulted in heavy drug uses.  In a 2013 interview with Complex, Miller openly stated that he often relies on cough syrup in order to cope with depression and stress.  His effort to overcome drugs had been on an intermittent pattern until Sept. 7, when Miller was found dead in Studio City, California.  Miller's assistant discovered him dead and unresponsive in bed the morning after he had a conversation with Miller during the previous evening.  Paramedics stated that Miller was dead for hours before he was found and went into cardiac arrest after an apparent drug overdose.  Further results of the autopsy would take weeks before any conclusion.  After his sudden death, hundreds of people in Miller's hometown mourned his death at Frick Park Blue Slide playground.  This playground also happens to be Miller's inspiration for his 2011 debut studio album, Blue Slide Park.  
 "Mac Miller's death was really sad and a lot of my friends are upset," said sophomore Daniela Giaramita.
The aftermath of Miller's death did not only affect his loved ones, but it also resulted in many fans blaming his ex-girlfriend, Ariana Grande, for his sudden death.  After a year and a half of dating Miller, Grande announced their breakup in May through her Instagram Story. This caused instantaneous media sensation and uproar in the music industry.  Thus, upon news of Miller's death, the spotlight briefly shifted to Grande, but dissipated as a futile incident after a past interview revealed how both artists still respected each other. 
"It is wrong that people are blaming Ariana Grande because it is not her responsibility and they obviously loved each other and were happy for each other after they broke up," said sophomore Hope Lane. 
    Even though the death of Mac Miller had been temporarily disguised by another scandal, the entertainment industry and fans have praised the young artist for his achievements and incredible influence on hip hop music.  His legacy has paved a way for the new generation of aspiring artists to approach music in a definitive yet boundless and creative manner.