New York Major League players aim to take home awards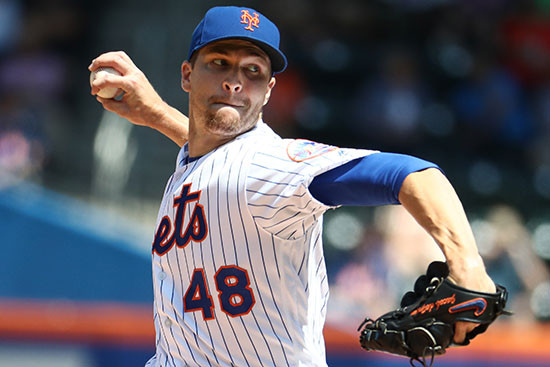 As the 2018 Major League Baseball season comes to a close, all eyes are looking towards the October postseason. At the end of each year, multiple awards are handed out to the best of the best. These awards include the Cy Young Award, which is handed out to the best pitcher in the National and American Leagues. In addition, the Most Valuable Player is awarded to the player who is the most outstanding overall, and it is also given to the National and American League. And lastly of the biggest awards, the Rookie of the Year is handed out to both the best youngster in the American and National league. 
The most talked about award in New York has been the Cy Young Award in the National League. The reason for this is Mets star Jacob deGrom. He has pitched to a subpar record of 9-9, yet has put up an absolutely incredible 1.77 earned run average. With any ERA under 2.00 being an outstanding accomplishment, pitching to a 1.77 ERA all season is absolutely unheard-of. Many Mets fans claim that deGrom deserves to take home the award. However, other baseball fans have argued that wins are one of the most important stats, and that players by the likes of Max Scherzer (17-7, 2.57 ERA) and Aaron Nola (16-6, 2.45) deserve recognition. It will be a very interesting voting poll as the season enters its final week. 
"deGrom deserves it. Wins do not give an accurate representation about how good a pitcher actually is. There are so many factors that go into who wins a game, which include the offense, and bullpen," said junior Justin Hill. 
In addition to the Cy Young, many New York fans have talked about who deserves the American League Rookie of the Year Award. Yankees fans have argued that the award outright should go to one of their two stars, Miguel Andujar or Gleyber Torres. Andujar, 23, has put on a show ever since mid-April when Yankees starting third baseman Brandon Drury went down. He has hit to a .298 average, with 25 home runs, 85 RBI's, and a .854 OPS. 
"I do not see any reason why Andujar should not take home Rookie of the Year. He has done everything to help the Yankees, and his own stats. In my mind there is no doubt he deserves it," said junior Justin Tawil.
In addition, the other Yankees star, Gleyber Torres (21), has hit .276, with 23 home runs, 73 RBI's, and a .825 OPS. While it would seem clear one of the two would take the award home, some have argued that Angel's two way star Shohei Otani deserves the award for being the first pitcher/hitter since Babe Ruth. However, he has played only 98 games and is out as a pitcher for an extended time due to a severe injury to his throwing arm. 
The MVP award in both the American and National Leagues is one of the more complicated of the three major awards. In the National League, most would agree it comes down to two finalists: Cubs infielder Javier Baez and Brewers outfielder Christian Yelich. Both players have come off incredible seasons, and both also have bright futures as stars. Baez, who plays all positions in the Cubs infield, has hit to a .293 average, hit 34 home runs, and batted in 110 runs. Another important stat towards Baez's case is his WAR, which sits over 6 games. For the majority of the season, it looked like Baez was running away with the race. However, Brewers Christian Yelich has been surging and putting himself at the front of the race. He has hit to an outstanding .322 average, hit 32 home runs, batted in 96, and also has a WAR over six. Many experts have started to see Yelich run away with the race, and that idea seems to likely come into fruition. 
In the American League, the race has likely come down to two sluggers from Boston, Mookie Betts and J.D. Martinez. Betts appears to have the edge, which comes with his top notch ability as an outfielder as well. He has hit over .330 the entire season, and currently sits at .343, which is unlike any players in a long time. He has hit a solid 31 home runs, batted in 78, yet has a WAR over 10, which is truly incredible. His counterpart, designated hitter J.D. Martinez, loses a bit in the race because of his one dimensional ability as a hitter. Yet, he has hit 41 home runs to lead MLB, driving in another 124 as well. His average also sits at an outstanding .329. Yet, many people see Betts bringing the award home because not only is he a similar hitter to Martinez, but also boasts Gold Glove level outfielding in right field. 
Other awards on a less large scale in baseball are the Gold Glove and Silver Slugger. These awards are given out to the best fielders and hitters in the league. In the National League, players such as Rockies Nolan Arenado and Trevor Story will look to add to their titles as the league's top defenders. Javier Baez will likely also lock up one Gold Glove, as well as Lorenzo Cain and Christian Yelich of the Brewers in the outfield. For the American League, Gold Glovers will likely include Indians infielder Jose Ramirez, Astros infielders Jose Altuve and Alex Bregman, as well as Boston outfielders Mookie Betts and Jackie Bradley Jr. Silver Sluggers, the best hitters in the league, will likely include Javier Baez in the National League and most definitely include J.D. Martinez in the American League. Martinez stands a likely chance to take home the Platinum Slugger as well, as it is given to the best hitter in all of baseball.