Travis Scott's newest album Astroworld is truly out of this world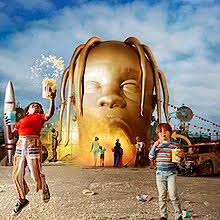 The eyes of virtually the entire music industry were set on one of the industry's most prevalent rappers, Travis Scott, leading up to the Aug. 3 release of his newest project, Astroworld.  Following the releases of his first two full-length albums, Rodeo and Birds in the Trap Sing Mcknight, many critics and fans alike were interested to see what Travis would do with his next project. 
Scott had been teasing Astroworld for months as his first single, "Butterfly Effect," was released 14 months before the release of the entire album.  The popularity of the single brought hype to new heights among music fanatics as Travis teased the project through social media and live concerts in the months following the release. 
The album took inspiration from the amusement park theme as it was named after the original "Astroworld," a closed down Six Flags park in Scott's hometown of Houston, Texas.  Scott even used the old advertisements from the park at some of his live performances, one of which was the Governor's Ball music festival, held in June on Randall's Island.  During his hour-long set at the festival, he not only showed this ad, but also played the album's opening track, "Stargazing."  And thus, many expected Scott to deliver the best work of his career so far.  Upon the album's initial release, it was met with vast commercial success, though many fans were actually disappointed by the project.  Some fans disliked the album's new direction compared to Scott's previous projects, which mostly appealed to mainstream audiences.  Nevertheless, Scott lived up to the expectations of various music critics, including Andrew Baker of Variety Magazine. 
"Scott has plenty of charisma and star-wattage, he's a passable lyricist, and his singsong, AutoTuned delivery is instantly recognizable," said Baker.
Throughout this project, Travis reached out to the audience by exploring many genres like R&B, rock, and psychedelic rock, in addition to his signature hip hop sound.  Tracks such as "Skeletons," which features Australian psychedelic rock band Tame Impala, offered the album a new variety that some of his prior projects lacked.  
"Astroworld is no Rodeo or Birds In The Trap Singing McKnight, but it's a beautiful creation of sonically striking sounds," said Thomas More of The Quiet US.
Moreover, the album possessed massive popular appeal as tracks such as "Sicko Mode," which featured industry giant Drake, can still be found on the top charts of Spotify and Apple Music over a month and a half after the album's release.  In addition, Scott and his team made the most of this album's popularity by using various marketing strategies.  They released merchandise items that are highly touted in the streetwear community, and some of them were designed by Off-White founder and popular fashion designer Virgil Abloh, who will be playing a DJ set during select dates of Scott's upcoming arena tour. The two-month tour will feature Scott and a few up-and-coming artists, such as Trippie Redd and Sheck Wes.
Overall, though the album may have not achieved the massive mainstream success that some expected, it was still packed with genre-bending songs that proved Scott's legacy as more than a rapper.  The music world will continue to closely follow Travis to see what cutting-edge project he will release next.