Annual Turkey Trot welcomes the Thanksgiving spirit in Port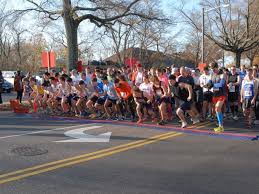 Lucy Barr, Contributing Writer
November 26, 2018
On Nov. 22, Port Washington held its 43rd annual Thanksgiving Day run, known as the "Turkey Trot."  Each year on Thanksgiving morning, many residents of Port Washington bundle up in preparation for the annual run, excited to participate after weeks of preparation and training.
Although the five miles can seem intimidating, many people participate in the holiday event every year.  Some people run, while others choose to walk, and many even cheer for the participants involved in the race.  No matter how one participates in the run, the Turkey Trot has always been a popular way to begin Thanksgiving morning.  
"It's great to have a local race that's festive and fun," said junior Tyler Streim, who has participated in the Turkey Trot for many years.
   This year, the race began at 8:30 a.m., though some participants arrived by 7:30 a.m. both to prepare themselves and avoid the madness of parking.  The starting line was on Manorhaven Boulevard and the finish line was inside the Manorhaven Beach Park parking lot.
The race is always not only a huge event in Port Washington, but also all across Long Island, as approximately 3,000 people participate in the race each year.
"It's really nice to have everybody come together as a town on Thanksgiving morning. I always look forward to running with my family and friends, and I am excited to participate in the race again this year," said freshman Emily Benson-Tyler.
However, not only is the race fun for participants, but it's also charitable and beneficial for the entire community.  Early bird race fees were $35 for adults and $25 for ages 9 to 21.  The proceeds raised from the fees went to the Community Chest of Port Washington, which helps various charities within the community.
"I find it really heartwarming that so many people continue to come every Thanksgiving morning, and that sponsors support such good causes so generously. It's a great example of the spirit of Thanksgiving," said senior Caitlin Kane.
Last year, $100,000 was raised from the race's proceeds. These funds gave grants to charities that help Port Washington residents, including PYA, Port Washington Children's Center, the Parent Resource Outreach program, and much more.
"In 2019, the Community Chest will give $325,000 to 28 charities, and much of this comes from funds raised in the Turkey Trot," said Executive Director at Community Chest of Port Washington Ms. Julie Meer Harnick.
The Turkey Trot also relied on its many volunteers, who dedicated their time to help with the event. This included many students from Schreiber's Key Club.
"Usually forty members of key club volunteer for 3.5 hours, and so we really can't ever do it without them," said Ms. Harnick.
Volunteers handed out race packets on the Tuesday and Wednesday evenings before the race, which included a long sleeve T-shirt and the participant's race number. While many racers wore shirts, there were a few racers who went all-out with their holiday costumes as well. Turkey hats were the most common costume, but there were a few especially unusual ones as well.  In the past, some people have dressed up as Santa and his reindeer or a pack of superheroes.
The best part of the race, however, was when everyone crossed the finish line and recieved a medal, whether they ran the whole time or simply walked the whole race with their friends.
"I have been running the turkey trot for four years, and this was my fifth year. My favorite part of the race is always doing it with friends," said junior Alexis Knepper.
Whether one walked or ran, the Turkey Trot was a very popular way to start Thanksgiving morning this year.  The whole town came together to raise money for a cause that many find important and was an example of Port's Thanksgiving spirit.