Ariana Grande sings "thank u, next" to her ex-boyfriends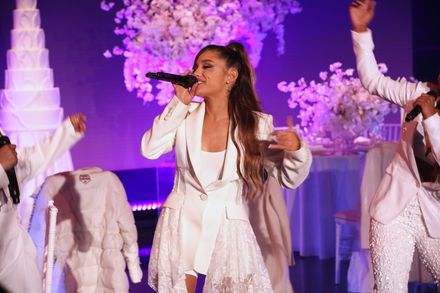 Over the past few years, the public has been following Ariana Grande and her tragic romantic relationships with a variety of celebrities. The chaos of her love life has come to a screeching halt since her and SNL comedian Pete Davidson called off their engagement just last month. 
In lieu of this recent heartbreak, Grande created her new single "thank u, next."  Released in the beginning of November, this monumentally important track demonstrates her resilience and ability to bounce back after such intense struggles with her dating life. 
The song is about all the important lessons she has learned from everyone she has dated.  The song expresses that while Grande cannot ignore the gratitude she feels towards the men that have been in her life, she does not need them to succeed. 
The song is the preview to her new album that is coming soon.
"thank u, next" begins with the verse, "Thought I'd end up with Sean, but he wasn't a match, wrote some songs about Ricky, now I listen and laugh, even almost got married, and for Pete I'm so thankful, wish I could say 'Thank you' to Malcolm, 'cause he was an angel." 
In just the first few seconds, Grande chronicles her love life.  Through the song, she also gives her fans her point of view on what they have been attempting to follow through cryptic social media postings. 
In 2015, she split with rapper Big Sean, but they remained good friends. Following that, Grande dated her dancer Ricky Alvarez, and since their breakup they have been on good terms. 
From 2016 to 2018, Grande dated rapper Mac Miller. Their relationship was the most public of all the previous ones, and Grande has opened up a lot since then about their struggles during the relationship. 
In September of 2018, Miller passed away of a drug overdose and Grande has since paid tribute to him in many ways. She has expressed her everlasting love and admiration for her ex boyfriend. 
Unfortunately, Grande not only had to deal with losing an ex-boyfriend, but also all of the backlash that came with it.  Many people began to publicly accuse Grande of being partially responsible for Miller's death.  All of this added to the already-fragile state of Grande's love life. 
This past spring, Grande began her whirlwind romance with Davidson, a Saturday Night Live star. They announced their hasty engagement just a few weeks after they started dating. From there, they seemed to be extremely happy together. 
Recently, though, the two decided that their engagement was not working out and they called their marriage off. Grande looks at all of these relationships positively in "thank u, next," as the lyrics read, "One taught me love, one taught me patience, and one taught me pain, now I'm so amazing." 
The singer shows that she is thankful for her exes and the life experiences they have taught her.  She proves that she is doing well without them and has turned previously hard situations into valuable learning moments.  Throughout the whole song, it is clear she has a very positive outlook on all her past relationships. 
Prior to the release o the song, Grande was in the midst of a war with Davidson.  He continuously made jokes about the relationship, and many believe that he was using his ex to remain in the spotlight. 
Grande began referencing him in her tweets, often using the phrase "thank u, next," hinting that a song would soon be coming. Most people expected the song to be a diss track against Davidson, but it turned out to be an inspiring song about how she learned to love herself. 
Grande sings, "I met someone else, we havin' better discussions, I know they say I move on too fast, but this one gon' last, 'Cause her name is Ari, and I'm so good with that." 
This song demonstrates Grande's resilience and ability to cope with all of the difficult challenges she has faced, as well as the empowerment that comes with independence.  Grande is becoming the voice of an entire generation as she teaches her listeners that there are better things to do than sit and mope over a messy breakup.