Landmark celebrates the holiday season with tree lighting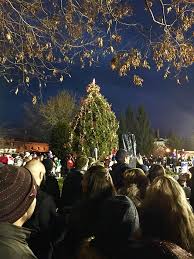 On Dec. 1, Port Washington celebrated its 21st Annual Christmas Tree Lighting event at the Landmark on Main Street.  Members of the community enjoyed music, a live Nativity production, a Christmas story reading, and a visit from Santa Claus for the children who attended. The occasion was organized by the Christmas Tree Lighting Committee, which consists of Port Washington residents and business owners.  
"The Christmas Tree Lighting allows people to participate in the community and celebrate the holidays together," said freshman Phoebe Levitsky.  "Many are not even aware of all the events that happen in our town.  The Christmas Tree Lighting brings people together and lets the community interact with people they may have never met before."
The lighting took place at Blumenfeld Park, located across from the Port Washington Public Library.  The main purpose of the event was to unite all Port Washington residents to celebrate the upcoming holiday season.  
"The Christmas tree lighting is so festive," said junior Rachel Bernstein. "I love Christmas decorations, and even though I don't celebrate the holiday, Port seems to adopt a sense of unity during the holiday season that makes everyone feel welcomed."
As mentioned earlier, Santa Claus also made an appearance by greeting every child under the tree, which added to the festivities.  There was live music and carols from a brass band and choir members from local churches.  In addition, the cast of the Red Stocking Revue by the members of CancerCare had a sing-along with the people at the event.
"I think that the Christmas tree lighting is a fun way for people to gather with other community members whether you celebrate or not. The lights on the tree are beautiful.  With all the entertainment, it seems like such a fun way to celebrate and embrace the holidays and winter," said junior Maddie Hiller.
There was a variety of entertainment provided in an effort to keep the holiday spirit alive, as well as to create a fun and community-based experience.  Among these included the live Nativity scene, where the story of Christmas was re-told.
In order to add to the holiday feel at the Christmas tree lighting event and to keep community members warm in the cold weather, hot chocolate, cookies, and tea were served. This provided a friendly environment for all residents to get excited for the holiday season.
"I think the fact that our town does this is great!  It's a great tradition that brings the people of Port Washington together.  Lighting the Christmas tree in the community shows our festiveness," said junior Hayley Korn.
For many Port residents, the Christmas tree at the Landmark is an exciting sight to see as it represents people coming together under the common interest of the holiday season.  Numerous families attended and participated in the lighting of the tree to help officially bring the holiday season to Port Washington.