Priyanka Chopra and Nick Jonas become newest power couple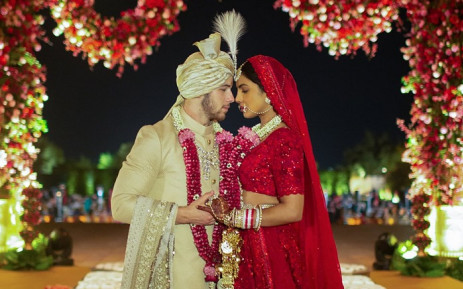 Priyanka Chopra married Nick Jonas just four months after their July 2018 engagement.  The three-day wedding weekend extravaganza began on Friday, Nov. 30. The wedding was extremely publicized and trended online for many days, and it even became the second most searched wedding on Google behind the Royal wedding of Meghan Markle and Prince Harry.
The love-struck couple left all speechless in Ralph Lauren couture while surrounded by their loved ones.  They exchanged wedding vows at the posh, Taj Umaid Bhavan Palace, which is located in Jodhpur, India.
Chopra wore an exquisite Abu Jani and Sandeep Khosla gown to the first pre-wedding event on Friday afternoon, which follows the traditional Mehendi ceremony. 
Both men and women of the bride and groom's families and close friends were present as Chopra had elaborate designs painted on her hands and feet with a henna paste.
Chopra's henna tattoo included a guitar on her upper right hand paying homage to her husband-to-be.  After the afternoon bash, Jonas also had henna designs applied.
"It was really supportive of Nick to have the henna decorating his hands," said senior Maya Leong.
The Friday night Sangeet was an all-night wild dance party. Each side of the family performed a competition style dance for the bride and groom-to-be.  As both families are musically inclined, the routines were well choreographed.  Furthermore, the scene was also more impressive to see as people were dancing with elaborate costumes.
"Each performer dancing their heart out and emanating their love and good wishes for the bride and groom-to-be, is what I have experienced at a personal family Sangeet," said senior Nick Kapoor.
On Saturday Dec. 1, Chopra and Jonas got married at the Taj Maid Bhavan Palace.  A Christian ceremony was held, and Jonas' pastor father, Paul Kevin Jonas, officiated.
Chopra wore a gorgeous custom couture Ralph Lauren gown encrusted with crystal seed beads, mother of pearl jewels, and Swarovski crystals.  Her magnificent 75-foot tulle veil and custom Jimmy Choo heels finished her look.
"I thought it was crazy how long her veil was," freshman Lucy Barr.
The groom also wore Ralph Lauren: a Purple Label double-breasted black tuxedo and custom patent leather shoes.  Meanwhile, Jonas wore a piece of Chopra's wedding dress that was sewn into his tuxedo lapel.  
The couple exchanged Chopard wedding bands.  Chopra also had her spouse's name and both his and her parents' names inscribed on the inside of her wedding dress.
The guests were not permitted to use mobile phones with cameras, and the event was overall extremely exclusive, as all of the guests had to display a special pass card at all times during the festivities.
Amongst the celebrities was Narendra Modi, the prime minister of India.
Following the extremely documented event, the newlyweds happily shared pictures on Instagram.
"[There were] cool wedding pictures and I also enjoyed the video," freshman Nicole Bonavitacola.
For the traditional Hindu wedding ceremony on Sunday, Chopra wore a shimmering, bright-red lehenga by Indian designer Sabyasachi.   Her gown was made by 110 seamstresses in Calcutta, and had taken a total of 3,720 hours to complete due to the elaborate French embroidery.
At the ceremony, the couple exchanged lush garlands of flowers and walked the seven steps around the holy fire.  The ceremony also included prayers, and many gifts were exchanged intermittently throughout the procession.
"The Indian ceremony seemed to be very spiritual and romantic," said senior Amanda Stanley.
Priyanka Chopra and Nick Jonas' multicultural wedding seamlessly united both of their families' cultures and honored their respective faiths.  Most importantly, though, the couple's families joined together during this lavish weekend and blessed the newly married couple.  In regards to the couple's honeymoon plans, both Chopra and Jonas will be heading back to work soon and their plans for this are set to be postponed to a later date.